How to Get Through the Holidays When You Hate Giving Gifts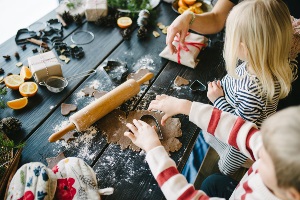 Feelings about gift giving are often split right down the middle; people either love it or hate it. I think this is especially true in a society like ours where shopping and gift giving for all occasions are seen as important parts of our lives. If you happen to fall more on the side of "hate it" (or maybe just "dislike it"), perhaps there's a way to enjoy the holidays without the stress and anxiety gift giving. .
Go ahead, be a Grinch
You aren't a Grinch if you don't enjoy giving gifts (although, the Grinch had a great message for everyone during the holidays—it's not about the gifts—so maybe go ahead and rock the Grinch vibes this year). Some people simply don't enjoy it for various reasons, and you're not alone if you feel this way. According to a recent survey, 33% of Americans say, " they wish they could skip the holiday season rather than spend money on gifts."
However, research from 2016 shows that people still spend an average of $929 on presents each year. I figured out how much we spent on gifts a couple of years ago and the number made me dizzy. But it also made me think that maybe there's better things to give during the holidays than physical gifts. How many times could you enjoy going out for breakfast, getting a pedicure, or going to a football game together for $929?
Last year, we really limited our gift giving (I think we spent a total of $500) and chose to give experiences over buying physical presents. The whole experience was so much less stressful.
We didn't freak out over our budget. We could comfortably pay our bills that month and tuck a little bit of money away in our savings account, and we still spent just as much time with our friends and family. Plus, we didn't have the stress of a credit card balance or the worry about whether people actually liked their gifts. We enjoyed ourselves, and it was blissful.
It wasn't without hiccups, however. We ruffled a few feathers, and there was a sense from some that it wasn't fair that we didn't reciprocate their gift giving.
I've found this is a common reaction because of the whole "you either love it or hate it" thing. People who love giving gifts oftentimes love receiving them too, and there's nothing wrong with that. But not giving holiday gifts can be misconstrued as being selfish if your intentions aren't communicated and made clear. If you choose this route, talk with your family and friends so they understand why you're not giving gifts this year.
Heed my warning: some people still might be upset even after you explain why you're opting out of gifts this year. It's partly because of our consumer culture and partly because many of us were raised with gift giving being the real meaning (or at least the most anticipated part) of Christmas. You need to decide if saving money and reducing stress, so you can enjoy the holidays, is worth a little discomfort along the way.
Ultimately, you have to do what works best for you. Sure, people generally expect gifts during the holidays, but you shouldn't feel forced into doing it. People won't die if they don't receive holiday gifts.
If you still want to do something special for your family and friends this year without the burden of finding the perfect gift for people who probably already have everything, keep reading on.
Other alternatives
Just because you really don't enjoy gift giving, doesn't mean you can't do something special for those you care about. Here are a few things you can do in lieu of physical presents this year to keep the holidays joyful and fun:
Do a craft project together while listening to holiday music and sipping your favorite holiday beverage. Okay, it doesn't have to be as cliché as that sounds, but some of my fondest holiday memories with my family aren't of opening presents; they're of making homemade ornaments while listening to Bing Crosby and Ella Fitzgerald and drinking hot chocolate. If the aim of your game is to spend more time with family and friends instead of shopping, this is a great alternative!
Recreate your childhood holiday photos. Pull out the family photo albums and recreate your childhood holiday pictures with your parents, siblings, cousins—whoever. This is a super fun way to spend time with each other, and there are sure to be lots of laughs and comments about your awesome bowl cut or fancy holiday wear.
Wear your pajamas and watch holiday movies all day. Break out your best adult onesie pajamas, pick out your favorite holiday movies, and snuggle in for a day of laziness and enjoying each other's company. I don't know about you, but I love "National Lampoon's Christmas Vacation," "The Santa Clause," and "How the Grinch Stole Christmas," and if I can watch them while sipping hot cider and snuggling under a comfy blanket, I'm set!
Make some old family recipes together. My family still makes a traditional Christmas dinner—turkey, stuffing, casseroles, etc.—and I love that we still use recipes that my grandma and great-grandparents used. We also make Spritz cookies and bow knots (a pastry coated in butter and sugar—mmm!) together, and it's one of my favorite things to do with my mom. I would take that over gifts any day.
If you don't have any old family recipes or you don't spend the holidays with your family, create a new recipe tradition with whoever you spend the holidays with. Cooking and baking tend to bring people together and, if nothing else, enjoying a delicious dish or baked good is definitely something most people can get on board with. Not great in the kitchen? Try out this easy and budget friendly sweet treat!
Have everyone bring small daily essential items to donate to a homeless shelter. Instead of gifts, have everyone bring items like deodorant, shampoo and body soap, toothpaste and toothbrushes, feminine products, and hand sanitizer (all in travel size), and put together care packages for people who utilize your local homeless shelter. Grab a drink or have some tasty appetizers on hand and you'll have a great time spending time with each other while doing something helpful and kind for others in the community.
Give the gift of experiences. I know I already mentioned this earlier, but it's worth emphasizing. People like experiences, especially if they don't have to pay for them! Find out what your loved ones enjoy doing and give them gift cards to do those things. Or, offer to do something with them. I just did this with someone I know—we took a knitting class together—and she said it was one of the best gifts she's received in a long time. Not to toot my own horn, but I'd say that was a pretty stellar gift.
Pool your money together to buy a cow. You read that right. Ask your friends or family to pool their money together to buy a cow, chickens, a pig, or a goat for people in foreign countries instead of giving gifts. Rather than scratching your head thinking about perfect gifts and spending exorbitant amounts of money on holiday gifts, you could make a positive impact that will last much longer than the holiday season. Check out Heifer International to see what gift options would fit your budget. With the smallest gift costing only $20, most people can contribute and feel good about their holiday spending.
Deciding to opt out of traditional gift giving is a hard decision to make. I know. I've been there before, and I'm struggling to decide what to do this year.
Whatever you decide, know that you might be met with resistance, anger, or confusion; but if it works for you and brings you less stress this winter, just do it. Life is too short to try to meet everyone's expectations, so try to find balance and joy this holiday season, whatever that means for you!