Affordable Winter Getaways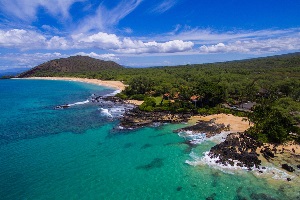 Winter can be a difficult time, especially if you don't care for cold temperatures or being more cooped up in the house. Or, if you're like me, the stress of the holidays might wear you thin by the New Year. Traveling in January or February might be the perfect way to break up the monotony of the season and help you relax.
According to a recent survey, 79% of Americans said they would consider a long distance winter vacation, and 53% said they weren't necessarily looking for a change in weather. This year, I want you to be one of the people who actually goes through with a winter vacation, so I've compiled my favorite affordable, post-holidays vacays. Read on to see if you can find the perfect trip for you this winter.
New York
I was recently made aware of how cheap it can be to vacation in New York after the holidays, and I am here for it. If you wait until just after the New Year, roundtrip flights from O'Hare to John F. Kennedy airport start at just $127, and hotels are often much cheaper once the holiday rush of tourists is over.
If you're looking for a warm winter getaway, New York isn't it. However, if you want a vacation from your everyday life (and the stress of the holidays) to a place that's full of culture, good food, and endless entertainment opportunities, you should consider the Big Apple.
There are many perks to visiting NYC during the tourism off-season. You can often buy cheaper Broadway tickets, especially to day shows; there are fewer tourists, so waits for attractions like seeing the Statue of Liberty are shorter; and you can enjoy the Holiday Train Show at the NY Botanical Garden (through January 21) without big crowds.
I'd be remiss if I didn't discuss the delicious food you can find in New York. Because of the many cultures represented in the city, there's a wide variety of eateries to enjoy. A few I recommend? Bohemian Hall & Beer Garden for beer, sausage, and schnitzel; the Ear Inn for a historic atmosphere, and yummy cocktails and burgers; or Katz's Delicatessen for a real New York experience, and delicious sandwiches. And you can finally have what she's having!
San Diego
San Diego is one of my all-time favorite vacation spots. There are tons of opportunities for good food, cultural immersion, and learning experiences, not to mention the beautiful beaches and hiking opportunities. If you choose to go during January or February, you can expect a roundtrip flight to cost between $340-$480 from Moline, or as low as $190 roundtrip if you're willing to make the trek to Chicago and fly a discount airline.
There are countless cliffs and areas to watch the sunset, surfers, or simply enjoy the sound of the ocean, and they're all much less crowded during the winter months. But I have three favorite spots that I encourage you to enjoy when you visit San Diego:
Sunset Cliffs—these cliffs have beautiful views of the ocean and surfers, and because they're cliffs, you can get your adrenaline fix by seeing how close to the edge you can comfortably get. Spoiler: my cautious self stayed about 20 feet from the edge at all times. Aside from the beauty you can experience at the cliffs, parking and hiking are free!
Torrey Pines State Reserve—although you'll pay $5-$10 for parking, you can make it worth your while at Torrey Pines by making a day of your visit. Make your way to the top of the hiking trails, learn historic information about how the cliffs were formed over the years, explore trails of varying difficulty, and enjoy the beach below when you're done.
La Jolla Coves—there are opportunities for swimming, surfing, snorkeling, and, of course, watching the very cute (and stinky) sea lions at La Jolla Coves. There are also some really great local restaurants and cafes in this area, especially Shorehouse Kitchen (which has awesome outdoor sitting and killer banana pancakes). An extra perk is that you can usually find free parking.
Other things to do while in San Diego this winter are visiting the San Diego Zoo, Balboa Park (the Christmas light displays there are so pretty at night), the many museums throughout the city, or the Birch Aquarium at Scripps. If you want to see lots of attractions on a budget while you're there, consider buying a Go San Diego card to save on admission prices.
Stockholm, Sweden
January temps in Stockholm range from 26-33 degrees…brr. But hear me out! If you can overlook the cold temperatures, Stockholm has the potential to become your favorite (affordable) winter getaway.
A roundtrip flight from O'Hare to Stockholm in January runs from $378-$611 per passenger, and that's pretty darn affordable for an overseas flight. Once there, you can easily save some money on attractions by buying a Stockholm Pass. At $75 per person, it may seem like an expensive pass, but it gives you access to over 60 of the best attractions or sites, a hop-on hop-off bus and boat tours, and a guidebook.
When you need a break from the cold, use your Stockholm Pass to visit the Vasa Museum, which features the Vasa ship that sank in 1628. It was basically fossilized in Sweden's waters so the vessel you can see in the museum is 99% original. Pretty cool, right?
You can see other historic sites too, such as Stockholm Palace, the official residence of the Swedish monarch built in the 18th century. Normally admission to the royal palace, three museums, and library costs about $18, but admission to this is included in that handy dandy Stockholm Pass.
When you're not exploring museums or enjoying the beautiful scenery, make sure to enjoy all the foods (especially pastries) Sweden has to offer. You can find restaurants and bakeries on your own, but there are also food tours that make exploring Nordic foods easy. The tours can be kind of pricey, but you get your money's worth, and your taste buds will thank you!
Test things out: If you want to explore Swedish pastries before you visit Stockholm, stop by Suzanne's Swiss Bakery in Davenport!
One last thing—if you love coffee, you'll love the Swedish tradition of fika: enjoying coffee while snacking on pastries or cake with acquaintances. Allison, author of the blog, "Eternal Arrival", has visited Sweden a few times and recommends the SoFo and Östermalm cafes for fika.
Hawaii
My husband and I have been debating on what time of year to visit my sister in Hawaii, and mid-January might be the winner. With the average temperature during that month being 73 degrees, I can get on board with an after-holidays trip to Oahu!
If the warm weather isn't enough to convince you to take a winter vacation to Hawaii, consider the costs. Because January and February aren't peak times for tourism, roundtrip flights from Chicago O'Hare are dirt cheap, ranging from $477-$697. To give you some perspective, when I looked at flights in August, tickets were anywhere between $850-$1,400.
Once you're there, Hawaii has an endless number of activities to enjoy. My sister, who has lived on Oahu for two years, recommends whale watching by boat or from a lookout point on the island. Makapu'u Lighthouse is perfect for whale watching or simply taking in the beauty of the island. She also recommends attending a Luau, which often have special winter pricing.
Winter hiking in Hawaii is great for a few reasons. The sights are still just as beautiful as if you were visiting during the summer, the weather is tolerable for hiking, and there's often cheap or free parking. Plus, there's way fewer people going on hikes so you won't feel rushed or like the trails are too crowded.
Another perk of going there during the winter is the chance to see surf competitions, since winter months bring perfect surfing waves. There are at least five surfing competitions held on Oahu and Maui each January, so you're sure to have lots of entertainment while you visit.
You might not be able to score as good of deals on hotels as you would once winter subsides on the mainland (April-June), but because mid to late January isn't a super busy time for tourism, you can find reasonable prices for hotels or rentals. If you don't mind a bit of driving, you can find even more affordable lodging further inland (instead of staying at a beach front hotel—although I highly recommend that if it's in your budget!)
Winter vacations can make the long months of cold days much more tolerable. Getting away, seeing new and exciting things, and trying delicious foods can do wonders for your mental health. And if you can do all these things affordably, that makes it even better.
Aside from waiting until after the holidays, picking places that aren't tropical is another way to reduce the total cost of your winter getaway. If you're willing to endure a little bit of cooler weather, like in NYC or Stockholm, you can find better deals on flights, hotels, and tourist attractions.
One last tip for keeping your vacation on budget: use your credit card points. If you're super responsible with your credit card, put all your winter and holiday purchases on your rewards card so you can rack up points to use for winter vacation expenses. The last time we visited San Diego, the only reason we were able to afford a beachfront hotel stay was because of our points. And draining our points total was completely worth the ocean and sunset views!
Happy winter traveling!