How to make extra cash from Airbnb & what you need to know before you start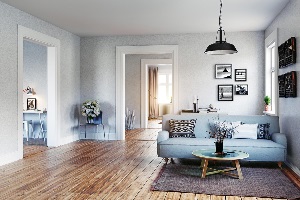 There are many ways your home can make money for you, but one way that's extremely popular worldwide is renting your home on Airbnb. Whether you want to rent your entire home while you go on an extended vacation or you want to make some money off a room you never use, Airbnb might be something to consider.
Many people have a room or small section of their home that they don't use. I have a room (with an attached bathroom) in my house that may get used someday, but for now it just sits empty. I've considered the idea of using Airbnb to rent this room out, but I honestly have no idea how it works or if it's really worth my time and energy.
The Many Perks of Airbnb
It turns out, there are a lot of really good reasons to use Airbnb to fill that unused space in your home or to rent out your home when you're out of town. Besides for the obvious fact that you'll make some money off your existing property, you're also not paying any extra money for it.
Unlike a second home or an investment property, renting on Airbnb doesn't require you to invest a large chunk of money or pay an additional mortgage each month. You already own the space, so any income you receive from rent is just extra money in your pocket.
However, you can expect to pay a 3% fee to Airbnb for processing payments from renters. You'll also need to consider the costs of preparing your space. I'd have to paint, and buy a bed, bedding, two nightstands, and curtains to spruce up my spare room enough to rent it out, which would add up to around $600-$1,200. Yikes!
Another financial perk is that you get low cost advertising through Airbnb, so you aren't solely responsible for advertising the availability of your space. Plus, their system takes care of a lot of the hard stuff, like booking and payments.
Airbnb's Host Guarantee program is something that should give you some peace of mind. You get automatic coverage of your home up to $1,000,000 whenever your space is booked to cover damage a renter may cause. Make sure to check the fine print of what isn't covered though.
For instance, damage to a part of the home that isn't part of the listing isn't covered, so if they break your prized coffee pot in the kitchen, you're probably going to have to replace that with your own money. My condolences for your loss.
The Many Downfalls of Airbnb
So far, Airbnb sounds like the perfect low-risk option for making some cash from your home, but there are some things to be aware of before committing to being an Airbnb host.
You may not have to invest a ton of money with this venture, but you will have to invest a lot of your time and energy. From responding to potential guests online, to preparing your home for their stay, to managing the cleanliness of the house during their stay, you will be doing a lot of work for your money.
One host says, "[It's] disruptive to handle booking requests and communication with all present and future guests. It's not intellectually hard, but you can't take a day off from it. If I take a vacation, AirBnB is the one thing I can't fully unplug from."
Not to mention that if things go awry with a renter, you're responsible for filing damage claims and hounding Airbnb for updates on said claims, a process which seems to be tedious for many hosts.
Do a quick Google search for "Airbnb Host Guarantee" and (after you sift through links from Airbnb's website) you'll see pages upon pages of people's experiences ranging from mildly positive to extremely negative.
The main negative points I found out about the insurance program were that it can be pretty difficult to get a claim approved and you oftentimes won't get the full value of your possessions or property (thanks, item depreciation!).
Even though you'd have coverage through the Host Guarantee program, you need to consider how you'd feel if grandma's china got broken or your favorite necklace got stolen by a guest. Most things can be replaced, but the sentimental value of some items can't be.
Most guests will be respectful and law abiding when renting your space, but there's always a chance you'll get a bad egg. Keep your personal possessions in mind, and make a plan for how to protect them while guests are staying at your home.
One last thing to understand about being an Airbnb host is that if you're just renting out a space in your home while you're still living there, you're going to have to modify your normal behavior a bit. Sorry, grabbing your morning coffee in just boxers probably won't get you a favorable review, so you'll need to be as professional as possible while you have guests.
This doesn't just apply to your behavior. Your kids or pets will need to be on their best behavior too, and your home will need to look as clean as if no one actually lives there.
Alternatives to Airbnb
Let's say that after reading the pros and cons, you decide you still want to list a space in your home for rent, but you don't love Airbnb. Luckily for you, there are a lot of alternatives to choose from, thanks to the vacation rental (VR) culture that's rising in popularity.
HomeStay, Wimdu, FlipKey, and Tripping.com are just a few of the alternatives you can use to list your house for rent. Many of the alternative sites to Airbnb have the perk of your listing being shown on several different sites, not just the listing site, so your space will be seen by a larger number of people.
Plus, since Airbnb's popularity skyrocketed, their prices have gone up too. People who are looking for more affordable VR's are more likely to check out alternative sites like Tripping.com or FlipKey.
One reason people seem to flock to VR's (besides for their affordability) is because they offer a taste of what it's like to be a local. If you love the idea of renting out part of your home and playing the role of "Best Host in Town", HomeStay might be the right choice for you.
HomeStay's mission is "to connect users with global homestays and authentic, immersive travel experiences through an online booking platform of hosts and travelers", and people love the immersive aspect of staying at HomeStay properties.
Just like Airbnb, all of the alternatives have perks, but there are down sides to them as well. Some, like Wimdu and HouseTrip, appeal more to guests in Europe or other countries, so you might not get a ton of interest from your listings here in the U.S. Also, there are fees for listing your home and processing transactions, which can end up being anywhere between 5-16% of each transaction.
Lastly, just like with Airbnb, there are always risks to your safety and property when hosting a stranger in your home. At the end of the day, being a rental host is risky business.
You're trusting someone you've never met to not only stay with you, but to respect your home and prized possessions, and sometimes that trust is broken. It seems like most hosts have great experiences, but there are countless horror stories out there.
If you're thinking about renting on Airbnb or any of its competitors, I caution you to read firsthand stories, but don't go too far down that rabbit hole.