Affordable Gifts for the Person Who Has Everything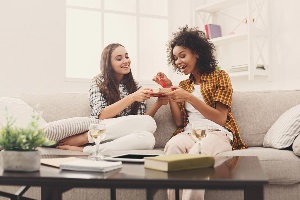 Gift giving during the holidays can be traced back to Ancient Rome, when gifts were given to celebrate the winter solstice, but I highly doubt the Romans worried about gift giving as much as we do nowadays. If you're like me, you have several people in your life who you love and want to give great gifts to, but they seem to have everything already.
It's hard enough to think of unique gifts that your loved ones who have everything will actually enjoy, but the task becomes even more difficult when you have a smaller budget to stick to. However, there are two things you can do to make the holiday gift buying process a bit easier:
Shop throughout the year, buying things you think people will really love when you stumble upon them at the store, at markets, or online
Keep reading this post and steal my great ideas
Memberships or Subscriptions
Some subscription boxes can be really pricey, but there are some that are more affordable, and these make great gifts. Not only do they help people explore new products, books, or hobbies, they're also monthly reminders to the receiver that you care.
If you have book lovers in your life, Book of the Month Club might be something to consider. A 3-month subscription is just shy of $45 and includes 3 hard cover books delivered monthly. If that price is too steep for you, shop around at Books a Million, Barnes and Noble, independent book stores, and Amazon. I guarantee you can find 3 interesting books for your favorite book worm at a price you can afford.
I've recently jumped on the membership bandwagon and love it. Memberships for fun activities or museums pay for themselves so quickly, and allow for tons of visits throughout the year. If you need to buy something for a whole family, think about a membership to the museum, zoo, or botanical center. The cost could range from $60-$100, but you'll be spending that much on an entire family, so you'll likely spend less this way than if you bought each individual person a gift.
Similarly, you can buy really cool tech gear that require subscriptions and pay for the first year. Wearsafe Labs makes a Wearsafe Tag that's designed to keep runners and people doing activities alone safe.
The innovative device allows you to send your location information to emergency contacts with a push of a button, and it's making people doing solo activities feel a lot safer. If you have someone like that that you love, consider purchasing the device ($50) and/or the device and the first year's subscription costs ($50 plus $5/month).
Quirky or Funny Gifts That Are Still Useful
One of my biggest pet peeves about gift giving is when people want to give gifts but aren't sure what to give, so they just buy novelty items or things that will sit on a shelf until February (when I finally throw out untouched holiday junk). It sounds ungrateful, but I would rather just spend time with someone than have them get me something that I don't want or need out of guilt.
However, I love quirky and fun gifts that are almost like novelty items, but that I can definitely still use. For instance, a family member got me copper beer mugs for my birthday last year. They look totally decorative and can sit adorably on a shelf in my kitchen, but I can also use them for beer, so it's a win-win!
Some recent gifts I've found lately that have been big successes are:
Quirky or funny gifts can sometimes be the best ones because they show you really know the person's interests and took the time to find them something unique (but still useable). Plus, the laugh they let out when they read that funny mug or t-shirt is totally worth it.
Experiences or Classes to Learn a New Skill
I recently gifted someone a beginner's knitting class, and I'm attending with her. Knitting is a skill she's wanted to learn for some time, and I thought it would be fun for us to do it together. Spoiler alert: it is fun!
Even if you don't plan to attend the class with them, people appreciate the gift of learning a new skill or exploring a new hobby. Said from experience, so often people won't spend money on themselves for things like learning to knit, make home décor signs, create clay creations, or make bath bombs. But I think we all know someone who would have a lot of fun learning to make bath bombs, so consider this kind of gift for someone who has everything.
If your loved one lives in the Quad Cities, check out Crafted QC and Craft Love's class schedules to find the right class for them! Class prices range from $15-$100 each.
If a class doesn't seem right, gift experiences they would enjoy. A massage, getting coffee together once per month, or a few sessions of yoga on your dime would all make great presents for those who don't need another physical gift.
Digitize Memories
Seymour Memreez took a series of films my great grandparents made and digitized them onto a DVD, and it as such a cool experience watching the world through their eyes. Not to mention how cute it was to see my mom and aunts as tiny tots!
Digitizing family memories is an invaluable gift, and it's pretty affordable ($10.99 per disc at Seymour Memreez). If your family is notoriously difficult to buy for, take all those family videos from your childhood (or maybe even your parents' childhood) and make them into one digital video that can be easily viewed via DVD or on a computer. Who could be disappointed by that gift?
All it takes to get through the stress of buying for people who seemingly have everything is a little creativity and thinking outside the box. Hopefully these ideas help you find the right gift for all your loved ones, while still sticking to your holiday budget. Happy gifting!