Holiday decorations you can actually afford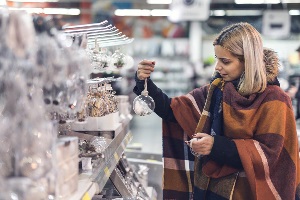 I firmly stand by my opinion that holiday decorations shouldn't be put up until after Thanksgiving. The November holiday is my favorite, so I hate when it gets overshadowed by fake pine trees, sparkly ornaments, and stockings hung by the fireplace.

However, I'm not a complete Grinch. I typically spend Black Friday making my house into a winter wonderland, and I love it.
When I got my first place, the only decoration I could afford was a $20 Christmas tree. I'd been given some hand-me-down decorations, as well as my childhood ornaments, so I decorated the tree with those. It's safe to say that my apartment looked pretty sad that first Christmas.
Every year since then, I've added a little bit to my holiday décor storage bin, and I've found some good tips and tricks along the way. Whether you decorate for the holidays the second Halloween is over or you wait until closer to December 25, here are some ways to help you save a little bit of money on décor this year.
Accept hand-me-downs
Just like I'm currently doing, most of our parents (and grandparents, aunts, and uncles) added new holiday décor to their stockpile of decorations every year throughout our childhoods. Chances are there are years' worth of decorations sitting in a basement somewhere that are calling your name.
As Macklemore taught us in 2012, it's totally cool to take your grandpa's style. Ask your family members if they're willing to part with some old décor or the ornaments you made as a kid. Vintage is pretty much always in, and holiday décor never seems to go out of style, so hand-me-down decorations are a win-win.
Some of my favorite ornaments are ones I decorated as a kid because they have good memories attached to them. And my favorite wall hanging during the holidays is the giant stocking I came home from the hospital in (I love this weird December baby tradition from the late 1980's!).
Go antiquing
Hand-me-downs don't just have to be from your family. Visit antique shops, like Doodads in Davenport or Skeleton Key Art and Antiques in Rock Island, to find some inexpensive and unique additions to your holiday décor collection.
You can also find gently used (and sometimes brand new) decorations at thrift stores. Don't limit yourself to searching for great finds just during the holidays. People clean out their closets and basements all throughout the year, especially in spring, so check back often to find some hidden gems.
Especially if you're going for a mismatched, sort of eclectic feel with your holiday décor, finding random pieces at thrift stores and vintage shops is the perfect way to deck your halls without breaking the bank!
Find decorations in nature
Visit the pumpkin patch and buy some cute mini pumpkins, gourds, and corn stalks to decorate your house for Thanksgiving. These decorating gifts from nature are usually pretty inexpensive, and they're my favorite way to give my house that "eating all the turkey while wearing a chunky sweater and enjoying the cooler weather" vibe.
If you're looking for a pumpkin patch that won't disappoint, the Country Corner pumpkin patch in Alpha, IL is especially great (and affordable), in my opinion.
Once Thanksgiving is over, you can find a ton of things outside to use for Christmas decorations, such as acorns, pinecones, and pine tree branches (just watch out for sap!). Something as simple as putting some acorns into a glass vase would add some holiday cheer to your kitchen or coffee table.
Another idea is using slightly thicker tree branches to make ornaments, if you know of anyone handy enough to cut them into disks for you. I found someone on Etsy who cut a bunch for me a few years back, and I paid $25 for them.

I made ornaments for our tree and for our family members using paint and a matte clear coat spray paint. Each ornament ended up being really inexpensive and unique, and I can't wait to put them on our tree again this year.
Scope out the Dollar Store (and $1 sections at other stores)
Why spend a fortune on decorations that are typically out for less than a month? Instead, you can find cheap supplies at the Dollar Store and create adorable decorations that even Joanna Gaines would be jealous of.
Someone I know recently posted on Instagram about how she has a plain door wreath, and she buys cheap supplies from the Dollar Store each season to update it. What a genius idea, right? A plain wreath (that you can use inside or outside) will cost you less than $15, and you can find cute things to add to it at any Dollar Store, like fake holly and pine cones. The best part about this is that you can keep the wreath and update it for spring after the holidays are over!
It's really easy to breeze by the $1 sections at stores when looking for holiday décor, but when you do that, you're missing out on hidden (and cheap) treasures! Buying a few $1-$5 items helps me stick to my budget but still fulfill the desire to add a little holiday spirit to my house.
I recently got a banner of wooden pumpkins for $2 and a mini witches broom for $3 to put on the mantel above my fireplace. Once I buy a handful of mini pumpkins at the pumpkin patch, the mantel will have a cute fall esthetic for less than $10. Don't underestimate the power of $1 section décor!
Shop during the off season
This won't help you for this holiday season (sorry!) but shopping for décor after the holidays is my best advice for finding cheap and cute decorations. Not every decoration you see in the store will be available after the holidays so if there's something you desperately want, be on the safe side and buy it before Christmas is over.
However, most things (like trees, wreaths, ornaments, and ribbon) will be available and marked down drastically as soon as Christmas is over. If you wait until after New Year's, it'll be slim pickings, but the prices will be even lower. I've had great luck with this tactic and, if you're a bargain hunter like me, you'll feel so smug that you snagged a $30 garland for $9.99.
You can totally manage to make your home look as adorable as a spread in Better Home and Gardens on a budget, you just have to be willing to look around and sift through some bargain or clearance bins. It can be a lot of fun looking for unique décor, too, so try not view it as a chore. Embrace your inner frugalness and start looking for those perfect (and budget-friendly) decorations. Happy hunting!