3 Ways you can make money from real estate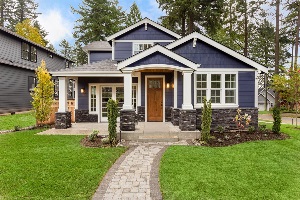 One of my life goals is to flip a house. I love DIY projects and making a space look more modern, and I think I have a knack for taking a "meh" house and making it into a home people want to live in. After overhauling my entire first home and making it look like something straight off of HGTV, I started to think, I might be able to do this to make money.
You might be saying, "Ooh, me too! I want to be like Joanna Gaines!" And honestly, who doesn't? But, while there are some great benefits to investing in real estate endeavors like flipping, there are some major risks and downfalls too. I'm here to tell you what I've found out about the most popular ways of making money using real estate. Buckle up your toolbelt and settle in, future HGTV stars.
Flipping Houses
Flipping can be an exciting adventure, which is why people like me are drawn to the idea. You have the chance to invest some hard work into a lackluster house to make it into a home someone will love, knowing you'll likely make a big chunk of money off your investment.
I say, "likely" because sometimes flips don't go as planned. A mistake some people make when getting into flipping is not budgeting enough to cover all the necessary improvements to the property. If this happens, you risk not being able to sell the house for what you planned, therefore taking a loss on the house. A recent analysis shows that "12% of flips sold at break-even or at a loss before all expenses." Yikes.
Many people have noticed that shows like "Flip or Flop" make flipping houses look stressful, but also incredibly lucrative. But it's not a one-person job, so if you make a profit from your flip, it needs to be split between everyone who worked on it.
I often think of flipping as something my husband and I could do on our own. While we do make an awesome team on home improvement projects, I know realistically we'd need to work with various contractors or companies to get the job done correctly, which means our portion of the profit would be much smaller than I imagine.
An important step in flipping is knowing what kind of property you should or shouldn't take on. If you know someone who's in real estate, you might want to ask for their advice about this while you're still new to the game.
The last thing you want to do is invest a lot of money into a house you think will be an easy flip, only to find out the neighborhood isn't as great as you thought or that there are way more improvements needed than you can afford. You want this to be a relatively quick and easy way to make money, not a quick and easy way to lose money.
Buying Investment Properties
Some people purchase these kinds of properties in addition to their own home, and others purchase them with the intention of living in one of the spaces. Both options have their perks, but keep in mind that if you choose to purchase a property separate from your home, you'll have an additional mortgage each month.
And if you choose to live in one of the rental spaces, you'll reduce the amount of potential income you could make on the property by having one less space to rent out.
Buying apartments, townhouses, or vacation homes that you can rent out is one way to make money from real estate.
Why to Invest in a Rental Property
There are a lot of reasons you might consider buying an investment property. One of the best reasons is that you can make passive income (income that comes in regularly and requires little to no effort from you) from your investment. Once you start renting the place out, you can rely on a relatively stable supply of income, which is great.
Another benefit is that if you buy the property when the neighborhood is still up-and-coming, you can charge higher rent. Many millennials want to live in places with charm and history (I say from experience as a millennial), so finding properties in historic neighborhoods that you can update and rent, could lead to a major cash cow for you.
Lastly, interest on investment home loans are often tax deductible. So, although buying a rental property is a big investment, you'll get a tax benefit out of it in addition to making money from rent.
Why Not to Invest in a Rental Property
Remember how I mentioned "passive income"? Investment properties can be completely passive for you if you can afford to hire out things like landlord and maintenance responsibilities. If you can't afford to have someone else do those things, you're going to be on the hook for them, and that will make earning this income a little more work you.
I have to mention how stressful being a landlord can be. You'll need to decide before investing in a property if the cash flow will be worth dealing with tenant drama, people not paying their rent, or cleaning up after a disgruntled tenant trashes the place.
Speaking of tenants, another thing to be wary of is that you may not always have renters. No (or less than usual) tenants means less money. Plus, you'll still have to pay for things like utility bills in those spaces, so you could actually lose money at times.
This all sounds great, but there's never a list of great things without a list of not-so-great things.
Lastly, you may buy a rental property that's in a great neighborhood and has lots of charm, but if the interior isn't up to people's standards, you're going to need to invest a little more money, time, and energy into updating the place. Making sure the electricity and plumbing work in all the units, painting, getting carpets cleaned or replaced, and updating bathrooms and kitchens are all pretty common projects. I love the idea of taking on a challenge like this, but if this doesn't sound like your cup of tea, managing a rental property might not be the right choice for you.
Renting Your Home
Statistics show that in 2018, 3.5 million households own second homes. Many people rent out their second homes as a way of earning passive income. If your second home is already paid off, the rent will be almost pure profit. If you still owe mortgage payments on the home, you'll want to make sure you're charging enough rent to cover the mortgage and give you a small profit.
If you don't live in the same area as the home you're renting, you may want to invest in a management company that can serve as the property's landlord. Some companies will even take care of the lawn maintenance, so you won't have to find an additional company to handle that aspect.
Just because you're renting out a home you don't live in, doesn't mean you have nothing to worry about. You'll need to decide who will have landlord responsibilities (you or a management company), and you'll want to have a contract in place with the tenant explaining what's expected, how long their lease is, and what can get them booted from the place.
You're also going to want to make sure you have the correct kind and amount of insurance on the rental home to protect your property in case of damage. Even with a contract in place, tenants can still damage walls or carpets, or do something crazy like pouring wet cement into toilets.
One really great aspect of renting a second home is that if you don't have a tenant and you can afford to go without one for a time, you can open it up to family and friends who are visiting. Opening a free B&B isn't on this list because, well, it won't make you any money. But your friends and family will love knowing there's an option for them when they visit town.
Additionally, if you need to sell the home you're living in, you have your second home to fall back on, pending you don't have a current tenant living there.
There are countless other ways to make income (small amounts and large) from real estate, but these three seem to be the most common and have the best return on your investment. All of these ventures require time, money, and energy, and none of them are as glamorous as HGTV makes them seem. However, that doesn't mean they're not worthwhile. You just need to find the real estate venture that's right for you. So, what are you waiting for? Go out and make some money already, you boss!