Fall Home Improvements you can DIY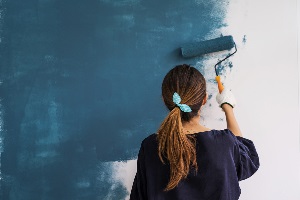 I find it so interesting how the seasons affect me. Each spring, I'm excited to spruce up the outside of my home. During the summer, I want to enjoy the work I put into my yard and garden, and by the time fall rolls in, I'm motivated to tackle projects around the house.
The cool, fall weather tends to keep me inside more, which makes me realize all the home improvement projects I'd like to complete. If you experience the same thing, let's chat about some of the best improvements you can make to your home this fall.
Improve Your Curb Appeal
Add Some Color
Winter can feel a bit bleak, especially if you're indoors most of the season, so add some life to the inside of your house before the winter blues set in. Break out your paint brushes and change a wall color or paint your trim. Neutral color combos, such as gray for your walls and white for your trim, will allow you to change things (like your curtains or wall décor) as often as you'd like without having to repaint.
You can also paint your front door. Fall is the perfect time to do this project because it needs to be done when the weather isn't too hot or cold. Hang a fall wreath on your freshly painted door and you'll be delighted every time you come home!
Plant Fall Flowers
If you don't already have some, find some cheap planters, fill them with fall flowers, and arrange them around your front door. Some flowers that do well in the fall are chrysanthemums, pansies, and celosias (these are my favorite annual flower!).
You can also find hay bales and corn stalks on the cheap at places like Farm and Fleet, which make adorable porch decorations. This is an easy way to spruce up the appearance of your house, and get you in the Pumpkin Spice Latte mood.
Finally Pull Weeds
If you're anything like me, pulling weeds when it's 95 degrees and 90% humidity sounds awful. So, you might avoid pulling those unsightly weeds during the hot summer months. Use the cooler weather in the fall as motivation to finally de-weed your yard. You'll not only like the appearance of your yard more, but you'll have less work to do in the spring too.
Prepare Your House For the Colder Months
Replace Weatherstripping
Learn from me, and make sure your apartment or house has proper weatherstripping. This is an easy project that you can do yourself, and it's relatively inexpensive too. You'll be thankful you prevented drafts coming through your doors and windows when the temperature drops below freezing this winter.
For a long time, I didn't understand the value of properly installed, quality weatherstripping. At my old home, I threw away so much money on my energy bill during the winter as cold air seeped in through the windows and doors. Everything is properly sealed at my new home, and my energy bills have been lower than ever.
Get an Assessment From Your Energy Company
Some energy companies, like MidAmerican, will do free energy assessments at your home, and they will even install some energy saving items for free, if applicable. After your assessment, you can apply for rebates to help with the cost of home improvement projects, such as installing a new air conditioner or furnace, upgrading your refrigerator or freezer, or improving your home's insulation.
Replacing major appliance like your furnace can seem daunting, but there are ways to reduce the cost (such as rebates for buying an energy efficient furnace or recycling your old one). Plus, making your appliances more reliable and efficient is an investment that will save you money in the long run.
Install Energy Efficient Windows
If you have windows that whistle as the fall and winter winds blow, it might be time to replace them with windows that will adequately keep the warm in and the cold out. According to HGTV, "replacing 10 3x5 ft. windows runs about $9,700" on average, but that investment comes with an almost 90% return on investment.
If you've tried replacing weatherstripping and your windows are still drafty, start saving for this project. If you won't have enough saved up to replace all of them, consider replacing the windows in your most used rooms. You can also apply for a home improvement loan to help you complete this valuable project.
Complete the Projects You've Been Putting Off
Spring has the reputation for being the best season to get stuff done, but in terms of motivating seasons, fall might just be the most underrated one. The weather is cooler so you won't feel like you're dying while pulling weeds or painting, and there are projects that you can do now that will make the winter much more comfortable for you.
Another perk of completing home improvement projects in the fall is that contractors typically have fewer projects once summer is over, so they're more readily available to help you complete projects if DIY isn't your thing.
Embrace the motivating nature of fall this year, and start tackling the projects you've been putting off, like cleaning out your gutters, adding a tile backsplash in your kitchen, or installing shelving units in your garage. Open your new, energy efficient windows, sip your Pumpkin Spice Latte, and make your home just as awesome as you.