5 smart money habits you won't learn in finance class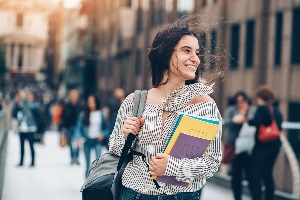 You're off to college and eager to learn! Which is good, because classes like finance need a lot of motivation to get through the dullness of corporate stocks and bonds (believe me, I know). And you'd think in a finance class you'd learn something about personal money habits. That's not the case. Below are the 5 habits that professors typically leave out.

1. Start a budget (and stick to it)
College is difficult. Then add a job (or two) into the mix and it gets even tougher. That's why we suggest that you at least start a budget and (hopefully) stick to it.
Now, this doesn't have to be super strict, because with a part-time job, hours are known for fluctuating. But at least have an idea of how much money you're bringing in vs. how much you're spending.
This helps because now you can see that those late-night Walmart runs for snacks may or may not be taking up half of your paycheck (GUILTY). When you stumble upon that shocking snack fact, you can adjust your spending as necessary, save money and stay away from the "freshman 15".
2. Check your debit card balance
Whether you have financial goals or not, consistently checking your account will benefit you. Because instead of swiping your debit card blindly, you'll always know how much money you have.
To do this, it's easiest to get your financial institution's mobile app. We know that phones are typically glued to a college students' hands anyway, so why not use 10 seconds of that time to check your account?
If you don't want to spend time logging into the app, you might be able to sign up for text notifications instead. These notifications can let you know almost anything about your account and will be automatically sent to your phone.
For example, some people want to know if their bank account balance falls below a certain amount. So to make it easy, they set up a notification so they get notified every time their balance is under X dollars.
If that isn't enough incentive to check your account, it also helps prevent fraudulent activity. When you stay on top of your charges, you have a better chance of catching fraudulent activity and can get it taken care of immediately.
3. Watch your credit score
Do you know how to check your credit score? If not, take some time to familiarize yourself with what your credit score is, what contributes to it and how your credit affects your future.
After that, keep a close eye on it. Your credit score plays a big role in what loans you'll get approved for in the future, housing situations, etc. So, you want it to be stable.
It's also a good idea to set a goal to have a certain credit score by graduation. This gives you something to work towards and boosts your credit score at the same time!
Learning all about your credit score is a big step into the "adulting" world. However, there's more that goes into your credit history than your credit score.
On top of regularly checking your credit score, it's a good idea to check your credit report, at least once a year.
It's similar to checking your credit score, except it gives you a lot more information. Think of it like this, a credit score gives you a number and a credit report gives you the reason behind the number.
This report tells you what your lenders are reporting and makes sure that your identity belongs to nobody else but you.
A way to tell if your identity has been compromised is by looking at the addresses on your report. If you've never lived, or sent mail to one of the addresses there's a chance that your identity has been taken.
But no need to panic because you can dispute the error and resolve the issue in whichever way works best for you (email, mail, phone).
And just like you can get a free credit score, you can also check your credit report for free (once a year). This is courtesy of the U.S Government and can be found at annualcreditreport.com.
When it pulls your report it's pulling from all three bureaus, which is important because sometimes they're different. College is the perfect time to get into this habit because while you might not have a lot of credit right now, you might in the future.
And the tiniest mistake can have a major impact on your score/financial health.
4. Make your bargain hunting game strong
The saying "broke college kid" is a real thing. Luckily, there are lifestyle habits that can change that. When you create your budget make sure that you're utilizing tools like bargain shopping so you don't fall into that "broke college kid" stigma.
Get your groceries at more affordable stores like Aldi and Walmart. And if you want to split a Sam's Club or Costco membership fee with a roommate, that can be affordable, too! However, these aren't the only ways to get good grocery deals. You can also spend some time couponing and go to places like Target and Hy-Vee. Now you'll be able to get all the tailgating necessities while still staying in budget.
There are also cost-efficient options for items like clothes, and even textbooks (yes, you read that right).
The simplest way to find a good deal on trending styles is to keep up with department store sales. Good ol' JCPenney and Dillards are always having sales on certain brands or items, so check their websites before you go shopping.
If the mall isn't your thing, you can also hit up stores like TJMaxx, Plato's Closet, Goodwill, Salvation Army, outlet malls, etc. Some of the best finds are the ones you have to work a little harder for.
Now, buying textbooks. The greatest time that rolls around twice a year.
Typically, the university bookstore charges full price for textbooks. So, unless you want to shell out $400 for a book you'll maybe use twice, look elsewhere. Most students have luck using textbook websites like Chegg or Amazon, where you can rent the book. And if you do happen to purchase it, you can sell it back for a reasonable price.
By using these resources you'll save money that you can put towards everyday items or put straight into your savings.
5. Current debt? Pay it off
Everyone knows that things at TJMaxx can get a little crazy. So if TJMaxx (or any other credit card) is contributing to your current debt, pay it off! Because remember, after graduation you have 6 months until you must start paying off your student loans.
Make sure that you're ready for this extra expense and you'll have the means to keep up with your other bills.
If you have the available funds now, it's a good idea to start making interest-only payments while you're still in school. That way you can get most (if not all) of the interest out of the way, and start tackling the rest of it upon graduation.
Many college students have the mindset of graduating college with a job lined up. Unfortunately, it doesn't always happen this way. No matter what happens post-graduation, ensure your financial situation is stable prior to getting your diploma.
If you need help figuring out how to start paying down your debt, check out the snowball method and see if it would work for you.
Self-Investment tip:
Whether you're a business, science or social work major, it's crucial to have a good network that can back up your skillset. This ensures that you'll be able to land that "big kid" job after graduation.

To get started, create a social media strategy. It doesn't have to be the most in-depth strategy ever, but it needs a clear vision.
For example, if your strategy includes LinkedIn, make it a goal to have X-number of connections by graduation. This not only helps you get to know people in the industry, but it shows future employers that you're taking control of your own future. You're going out of your way to make connections and learn more about the industry, so you'll potentially stand out of their stack of 50+ resumes.
LinkedIn is a huge tool that can pay off in the future when you start applying for internships/jobs, so it's important that you keep up with your profile.
If you don't have the time to establish yourself on LinkedIn, take this time to clean up your other social media platforms. This means no inappropriate pictures or anything that could harm your potential future employment.
By following these 5 money habits, you'll be out of college and financially stable in no time. At least more stable than that friend who parties every weekend and spends money on non-necessities (like $200 in snacks). And if you're looking for the easiest one to start today, start with mobile banking. Visit our mobile banking page for all the perks and how to get started. Look at you, 1 down with just 4 to go.