How grant programs can make homeownership possible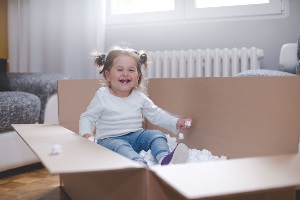 Homeownership is something we all want and strive for in life. It's an exciting time. There's no doubt having your own address comes with a lot of satisfaction and pride. But, a lot of people think it isn't an option for them because they struggle with money for a down payment, closings costs and other pre-paid items that go along with the purchase of a home.
That thought is created by one of the biggest myths that prevents people from becoming home owners: that you must have perfect credit, a long job history and 20% down to buy a house. A lot of people don't ever consider homeownership because they feel they don't meet those criteria.
The good news is that there are a lot of options out there to help people become homeowners, even if they don't have great credit or a lot of money for a down payment.
At IHMVCU we offer a lot of different mortgage programs that can help people become homeowners with as little as 3% down. Depending on whether you live in Iowa or Illinois, we also offer some different down payment assistance options.
These programs can offer up to $6,000 toward your down payment, closing costs and other pre-paid items, like taxes, accrued interest and mortgage insurance premiums. Some of the programs we offer are State Funded Programs, and some are national programs.
There are other ways you can get help putting together the funds, too. One popular option is a gift from a family member. For a lot of people, family members are able and willing to help loved ones with getting into a new home. If you think you have a family member who would be willing to help you with a monetary gift, get a verbal confirmation from them on how much they're willing to help before speaking with your loan officer. This will help you to get prequalified for the right amount.
We know that owning a home can come with extra costs, maintenance, and other unforeseen things like job loss or medical emergencies. So we want to make sure the money you do have saved is available to you if something unexpected comes up.
Even if you already have some money saved, grant programs can still be a big help.
One of the most important things for new and potential homeowners to remember is that if something breaks, it's on you to fix it. When you were renting you may have and the luxury of calling a landlord or maintenance person to make any surprise repairs. It's up to you to make sure those repairs are made when you own your own home, so we suggest holding on to as much as your savings as possible.
To avoid having to borrow money or use your credit card if something does come up, we always recommend having at least six months of reserves saved. If you use your entire savings on your down payment and other pre-paid costs, you might find yourself in a sticky situation if something comes up after closing.
With these grant programs, you can have little to no out of pocket costs required to buy your home, leaving you with extra funds to pay for any surprise repairs, home related expenses or other emergencies that might come up.
Learn more about mortgage grant programs available for IHMVCU members and even start you application online today.