Millennial Mortgage Advice: Conventional or FHA?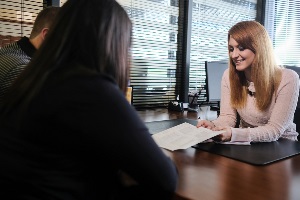 Is it truly possible to buy a home in your early to mid-twenties? Absolutely! I did it and that was long before I was a mortgage loan officer with IHMVCU. I'm now 27 years old, but thanks to some great advice from my mortgage loan officer, I was able to buy my first home at 23.
I think most millennials can find out from a basic Google search that the first step in their house hunting journey is to actually apply for a home loan, but what gets confusing is all the pop-up ads about First-Time Homebuyer Conventional Loans and FHA loans. How on earth are you supposed to know the difference? And let's be honest, Wikipedia is not helpful when it comes to getting the simple answers you need.
That is why I'm here to help bridge the knowledge gap.
What's the difference between conventional home loans and FHA loans for first time buyers?
The biggest difference between a First-Time Homebuyer Conventional Loan and an FHA loan is the level of credit the borrow has established and maintained.
For borrowers with more established credit who have mostly always paid their bills on time, the best option for purchasing a home would be a First-Time Homebuyer Conventional Loan with as little as 3% down payment.
Wait, did you read that, right?
Yes, yes you did.
You don't need an 800-credit score and 20% down payment for a Conventional Loan. We have options for as little as 3% down when purchasing your first home, and closing costs for this type of loan tend to run about 3% of the total purchase amount.
For easy numbers sake, let's say you're looking to purchase a $100,000 home. You'd need $3,000 or 3% for your down payment and about $3,000 saved for your estimated closing costs. So around $6,000 total to own your home.
Can someone help you make the down payment or pay closing costs?
If $6,000 seems like a lot of money, don't worry. There are options to you get the cash you need. If your family is willing to help you out, you're allowed to use gifted funds to help with these expenses. If your family can't help or you want to do it on your own, there are also several grant programs available to help you with your down payment and closing costs.
What if I don't have a great credit score? What if I don't have credit at all?
Perhaps you're reading this and thinking…ugh, I don't know if I can qualify for a conventional loan because I'm just starting to establish credit. Or maybe you made some mistakes with your credit earlier on and you're still recovering from those mistakes.
That's okay! You can still buy a home. That brings me to our next loan program, FHA Home Loans.
These loans are also great for First-Time Home Buyers as they give more millennial buyers the ability to purchase homes that previously wouldn't have even considered applying for. You don't need perfect credit and you don't need years of established credit to apply for this type of loan. Here are the details:
FHA loans require a minimum of 3.5% down payment and closing costs run about 3% of your total purchase amount.
Like our first scenario, if you're looking to purchase a $100,000 home you would need $3,500 for your down payment and another $3,000 for your closing costs. I know what you're still thinking, $6,500 is a lot of money when you've got student loans and a dog to buy kibbles for.
Don't panic. We have options to help get you into a home despite the initial cost. Just like with the conventional loan, a family member can gift you the funds you need for your down payment. If you're worried you can't afford closing costs, you can ask your Realtor® to negotiate to have the seller pay your closing costs while they negotiate your purchase offer.
Does all this information have you excited? Are you ready to learn more? If so, contact me or any of the other mortgage loan originators at IH Mississippi Valley Credit Union and we can walk you through the home loan application process step-by-step to find out which home buying option is right for you.