Applying for a Business loan: 3 Things to Give to your Lender for Success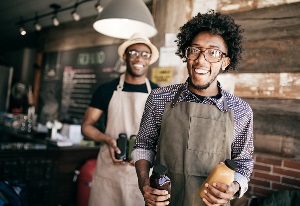 Gone are the days when a firm handshake was all you needed to acquire financing for your business. As the modern banking industry becomes more sophisticated, so have the documentation requirements when you apply for a loan. Understanding what information you'll need to provide ahead of time helps streamline the process and show the Loan Officer you're serious about the request.
Every situation is different, and depending on your specific financing request you may be asked to provide additional information, but this is the minimum information you should be prepared to provide to start the underwriting process:
Last three years of personal and business tax returns
The tax return information is used to create cash flow analyses and calculate financial ratios, like liquidity and leverage. A common issue with tax returns arises when businesses are so focused on reducing their tax liability that the resulting net income amount is too low to service the debt they are requesting – which basically means according to the tax return they don't bring in enough income to repay the loan.

You can avoid this pitfall by planning ahead for any future borrowing, and communicating with your accountant before you borrow.


Personal financial statement
The personal financial statement (PFS) shows your personal assets, liabilities, and net worth. The PFS is not only important for analyzing the individual borrower, but it can help the Loan Officer determine other financing options available to you.


Business debt schedule
A cash flow analysis looks at the ratio of business income (provided in tax returns) to business debt. While the business's balance sheet will show the total debt outstanding, it doesn't include the monthly payment amounts. Including that information in a business debt schedule allows your Loan Officer to complete an accurate cash flow analysis. While these are the essentials, keep in mind that every business is different and so are their financing needs. Depending on the specific request it may also be important to include the following:

Business Plan
If your financing request is intended to help you start a business, you'll need to provide a detailed business plan. Be sure to include information on how the business will operate, who'll be involved and their experience, and projected financials.

The projected financials should cover the first 3-5 years of operation, and include a forecast of future revenues and expenses. Projected financials are vital to a funding request for a new business because you won't have any historical financials for the lender to analyze.
Rent Roll
A rent roll, or schedule of rents, is a listing of the individual tenants of a property along with their respective rent amount and length of lease. If you are requesting financing to purchase a multi-unit building you'll be asked to provide a current and expected/projected rent roll.
Interim balance sheet and income statement
Interim financial statements show a business's financial performance for a partial year, and are typically needed in situations where a tax return has not yet been completed for a given year.
Purchase agreement
Whether you're financing the purchase of a building or a piece of equipment, be prepared to provide a copy of the signed purchase agreement. The PA provides specifics on the item being purchased and the agreed upon price, and provides proof for the use of funds.
Once the request is analyzed and the loan is approved, the hard part is over!
The next steps in the process are to prepare loan documents and, if necessary, open your account.
To complete these steps, you'll be asked to provide your business formation documents, like your Article of Incorporation and Corporate Bylaws, and a copy of your IRS letter as proof of your tax ID.
As Loan Officers, we understand that this list can seem daunting and our aim is certainly not to inconvenience borrowers. In today's environment of heavy regulation, we bear the burden of proving prudent lending practices in our annual audits, and this documentation is how we accomplish that task.
As the borrower, you're not expected to be the expert on what documentation will be needed, but this list will help you better prepare when it comes time to request financing.
Looking to finance your latest business endeavor? Contact Evan today to get started:
emuench@ihmvcu.org
309-797-5946