How to make the switch to one-income only on a budget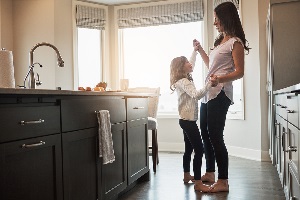 If you're thinking about cutting down to one income this year, it might seem a bit daunting. You've probably heard anecdotes about people who can't afford hobbies, buying new clothes, going on vacation or even going out to eat after eliminating one income, and that sounds like no fun.
However, it is possible for couples to downsize their income and still have a life. It just takes some preparation and planning. If you and your partner have decided to become a one-income household, consider the following steps before you actually quit your job.
Look at Your Current Budget and Create a New One
The very first thing you'll need to do when to decide if one income will work is look at your current budget. If you don't have one, the time to make one is now.
With your partner, decide which expenses you can cut from your budget (such as cable, going out to eat, and expensive shopping trips) and start doing so right away. By creating and following a new budget tailored for one income, you're already in the habit of avoiding certain costs when you make the transition. Plus, you can start putting what you save from those unnecessary expenses into your savings account, which will help build up your emergency fund. It's a win-win!
Make Room for Fun
When you create your new budget based off one income, make sure to account for fun activities, hobbies, or date nights. No, they're not essential to life, but if you can make a little room in your budget for fun, your one-income life will be much less boring (and stressful).
Another tip is to give each partner an allowance. Set the rule that neither of you has to consult the other about what the allowance is spent on, and agree that once it's gone for the month, it's gone. So, no dipping into the savings for your 15th coffee this month!
Communicate, Communicate, Communicate!
I can't emphasize enough the importance of communicating with your partner about the changes that will need to occur to make living on one income work. Before one of you quits their job, you'll need to discuss budget changes and eliminating unnecessary expenses.
After you've downsized your income, you'll need to communicate about unexpected bills, needs vs. wants, and how your budget is doing. Talking about money can be a stressful thing, but without good communication, tensions can run high and money troubles can wreak havoc on your relationship.
Build an Emergency Fund
While you still have two incomes, build a comfortable emergency fund. People recommend saving anywhere between six and twelve months' worth of expenses before quitting your job, and while that might sound a bit overwhelming, this is where that preparation I mentioned earlier comes in.
Unless the one income you're going to be relying on is really good, you're going to need to plan for unexpected bills, hospital visits, and even vacations, so you should start planning how to build up your emergency fund months before you quit your job.
Pay Down Debts
Pay down (or pay off completely) debts you owe while you still have two incomes. Whether it's car loans, student loans, or credit card debt, using your current income to pay down debt will mean fewer expenses going forward.
Pro tip: if you have Federal student loans, call your loan provider and ask what your monthly payments will be with your new, lower combined income. Chances are, your payment is going to drop (woohoo!). If you don't report both you and your partner's incomes on your taxes, your student loan payment will likely drop significantly. Knowing this ahead of time can help you better predict what your new budget will look like.
Set a Realistic Date for Quitting
Whether it's you or your partner that will be quitting their job, set a realistic date for when you'll cut down to one income. For some people, walking into the boss' office tomorrow and yelling, "I quit!" sounds like a dream come true, but that won't set you up for the best transition to one income.
Decide how long you think it will take you to do the above steps, and be open to extending this deadline. Sometimes things happen while you're preparing to cut back (like an unexpected car repair or medical bill) that takes a chunk out of your emergency fund or doesn't allow you to save as much during that month. Expect the unexpected and be flexible, but always keep that end date in mind as a motivation for following your new budget, avoiding unnecessary costs, and paying down debt.
So many details go into making one income work for couples, and what we covered in this post is just the tip of the iceberg. If you need help deciding if one income will work for you family, try one of our free financial calculators to get a feel of whether you can afford to stay home or should keep working.