How to know if you should open a cash back credit card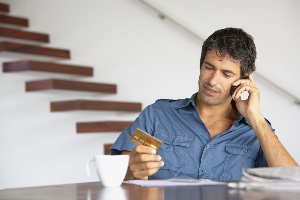 Cash back credit cards sound almost too good to be true. A credit card that gives you cash in return for spending money? Sign me up! (Actually, I already have a cash back card, so I'd rather not be signed up for another one, but you get the point.)
I'm not alone in being attracted to credit cards with rewards programs. According to the 2015 J.D. Power U.S. Credit Card Satisfaction Study, 86% of those whose preferred payment method is a credit card said their card had a rewards program.
In another study, 59% of card users said their rewards program was the most attractive aspect of their credit card. If you're someone that thinks getting rewarded for spending money, join the club! Then, keep reading to find out if a cash back credit card might be the right reward option for you.
Why do people open cash back credit cards?
Get paid to spend
Have I mentioned you get cash in return for spending money? Whether you only put occasional purchases on your card or charge all your monthly bills, doesn't it just make sense to use a card that rewards you with cash back?

Most cards with this perk make it easy to withdraw your cash reward, and many will even allow you to apply it to your card balance. The latter option is definitely a plus because it'll help you pay off your balance quicker and may even save you money in the long run.
Freedom of choice
While most reward cards have great benefits, those that don't offer cash back can be strict about what you can use the rewards for. For example, some can only be applied toward travel or gift cards, and that constrains how you can use the rewards you've worked so hard for (or bought a bunch of stuff from Target for…).

I like the freedom to choose how to use my credit card rewards, so I chose a cash back card. If you too identify with my "don't tell me what to do" mindset, cash back is probably the way to go!
Important Note: If you choose to open a cash back credit card, make sure you understand how easy it will be to redeem the cash. Many reward cards are similar, but they're not all created equally, and some make it harder to withdraw your rewards, so take time to understand that process before applying for a card.
What to consider before opening a cash back credit card
For people with bad credit:
If you don't have a stellar credit score, you might not qualify for the best cash back card. Some people might say, "But Elizabeth, isn't any cash back better than no cash back?"
In my opinion, no. If you're getting .5% back and the card has a 20% APR, it's probably not worth it, especially if you sometimes leave a balance on the card.
For people who tend to overspend:
Because spending essentially makes you money with these types of cards, it's easy to charge things you can't actually afford or spend more than what you planned. Impulse buying is never a good idea, but cash back cards can sometimes make it even worse by giving people a false sense of security about their credit card balance and their ability to pay it off.
For people who carry a balance:
If you have a habit of carrying a balance on your card, cash back credit cards might not be that beneficial for you. Most cash back cards come with hefty APRs (the highest I found in my research was 24%—yikes!). According to Jordan Wathen from The Motley Fool, as little as 45 days of carrying a balance could "completely eliminate any cash back benefits" from a card with an interest rate between 17%-21%.
Important note: You can find credit cards that have lower APRs and still provide the benefit of cash back, such as IHMVCU's cash back credit card, which only has an 11.9% APR and you earn 1% back on all purchases. I know I was supposed to be describing the drawbacks of these types of cards, but if you're a responsible credit card user, IHMVCU's card is a pretty safe and rewarding (see what I did there?) choice.
Is a cash back credit card right for you?
If you have a decent credit score, healthy spending habits, you pay off your balance each month, and, most importantly, like receiving cash as a reward for spending money, a cash back card might be right for you.
As long as you're a responsible card user and don't sign up for a card with a crazy APR, the benefits definitely outweigh the drawbacks. Even if you don't have the world's best credit score, you might still qualify for a decent cash back card, which would allow you to build your credit while also putting some money back into your pocket.
If you've never experienced the wonderful world of cash back credit cards, I suggest starting with IHMVCU's cash back card. Aside from the low APR and the ability to earn 1% cash back on all purchases, the card also comes with travel and emergency assistance, $400,000 in travel insurance and there's no annual fee. Need I say more? Visit IHMVCU's credit card page to find out more and apply for your cash back credit card. Enjoy this part of your financial journey!