What every teenager should know about getting a summer job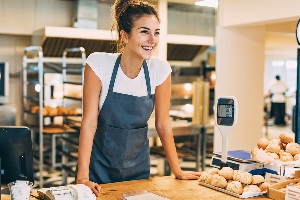 Summer is here and school is out! To fill your long days of summer you're considering getting your first job. Do you know what to expect?

Kay Meyers, Human Resource manager at the HyVee on Avenue of the Cities in Moline, said, "A job at HyVee is just a stepping stone for young adults. It helps them learn and grow as an individual."
Meyers view is relatable whether you're working at HyVee or babysitting. Summer jobs don't just mean money. Although this is a big plus. That first summer job is loaded with valuable life lessons and yes, money.

Here are some jobs for you to consider.
What are typical summer jobs for teenagers?
There are a lot of job options for teens in the Quad Cities and surrounding area. The ones that seem to be the most popular are Whitey's Ice Cream, HyVee, and fast food restaurants such as McDonald's or Subway.

Let's face it, these places are everywhere. Some cities have multiple Hy-Vee and Whitey's locations. Davenport has at least four McDonalds and a gazillion Subways. Ok, maybe not that many, but they are everywhere, meaning it's easy to get a job at one near your house or school.

In addition to convenient locations, these typical teen jobs are also usually part-time and pay minimum wage. They're open longer hours and are more willing to work with your schedule than some other places that are only open nine to five.

But, if customer service or fast food isn't your thing there are other options for you, too.
Tutor
If you're really good at a school subject, why not try your hand at tutoring? Ask your teachers if there are any tutoring programs you can get into during the summer. If you understand a subject well enough to teach it to someone, this can be an awesome way to make some money and help someone else learn at the same time.
Lifeguard
Look at your local YMCAs and swimming pools to see if they're hiring for lifeguards. Keep in mind that lifeguard, first aid and CPR certification is required in most cases for these types of jobs. The good news is that the YMCA trains their own lifeguards. They offer training courses year-round to anyone 15 years and older who wants to be a lifeguard for any of the Quad City area swimming pools.
Lifeguarding requires excellent communication skills. You must be able to talk with fellow lifeguards and emergency services to effectively coordinate a rescue or medical treatment. You also need to be reliable, after all people are trusting you to save lives if the need arises.
Camp counselor
Summer camp jobs are great for teens who love the outdoors and kids! Plus, you can gain valuable leadership and mentoring skills. The Scott County Y has Camp Abe Lincoln and day camps. You can also check out your city's website for potential camp jobs. Some of these camps are overnight camps, so if you're not comfortable with this a day camp might be a better fit for you.
Most camp jobs require previous experience working with youth and CPR certification. Camp Abe Lincoln staff are 18 and older for overnight camp. If you're 17 they will consider you for day camps if you complete a Leader in Training Program. Don't forget that this type of job requires you to be in charge of children all day and night. It can be exhausting, so you'll need stamina, patience, and maturity.
You may know the type of job you want, but what does it take to get hired?
I talked to hiring managers at HyVee and Whitey's to help you better understand what employers look for in a teen employee.
How should you prepare for a summer job?
So, what do companies look for in a teen applicant? According to Kay Meyers, Human Resource manager at the HyVee on Avenue of the Cities in Moline, her top four qualities are: flexible availability and the ability to show up on time, make eye contact and hold a conversation.
Annika Tunberg, Director of Marketing for Whitey's explained that they look for someone who is both a hard worker and quick learner.
"There is a lot to learn and memorize in order to work at Whitey's Ice Cream, and we want to be sure to hire teens who want to be there," says Tunberg.
No matter what you do, if you're working as a lifeguard or scooping ice cream, you're customer service focused. You're there for the customer. It's important to show up for your job and have a desire to be there.
Availability is important to employers. That's why HyVee and Whitey's will work with teen's schedules. If you're in school, HyVee will schedule you only one night a week and weekends. During the summer, you may work longer hours if you're available.
What skills do employers want teenagers to have?
No matter what job you end of getting, there are some traits that almost every employer look for in their employees.
Be self-motivated
Employees who are self-motivated are hard workers, loyal and have a strong commitment to their job. They want to be there. Employers don't want to constantly stand over their employees telling them what to do. They want you to show initiative. Suggest a policy change if you see something that isn't working. Be the first to volunteer to do a project. Go that extra mile, above and beyond what your employer expects of you.
Have a positive attitude
Employers see this as one of the biggest assets a teen can have.
"Customer service is our top priority, so we want to make sure they are at work with a smile on their faces and a team-player attitude," says Tunberg.
Moreover, people want to be around a positive person. Positivity affects not only your willingness to do the job but also your trainability, and leads to a fun and more productive work place.
Be a people person
The ability to interact with people is a plus in customer service jobs. You need someone to be able to read people and put customers at ease—especially if they're upset about something.
"The best thing [employees] can do is take care of the customer," says Meyer.
What should you expect in an interview?
You found the job you want, you applied, now it's time for your interview! You can't wear jeans, but there's no need for you to go shopping for that suit or tie. A nice pair of pressed pants, such as khakis or a modest length skirt (below the knee) paired with a polo or button-down shirt will work just fine. Just make sure whatever shirt you choose it's wrinkle free!
Show up on time! If you're late for the interview, can they expect you to show up to work on time? Punctuality is important to employers. It shows initiative and that you're committed to doing a good job. What if someone's time off is dependent on you coming in at a certain time? This could lead to tension and resentment. Teamwork can't thrive in this type of environment.
Make sure during the interview you maintain good eye contact. This shows you're engaged and listening to them. This doesn't mean you need to stare them down in a full out no-blinking contest. That could get awkward fast. Just don't talk to the floor. Make sure you're addressing the person giving you the interview when you talk.
It's also helpful for you to know the company you're interviewing with. Show that you're interested in the company by preparing questions for the interviewer.

Make sure you know the skills you have for the job you're applying for. You can research the job you're applying for online, check out the company's website or talk to someone who works for the company you're interviewing with.
Ever hear practice makes perfect? Well, now's the perfect time to start. Look up sample interview questions and practice! Recruit a friend or a family member to give you a mock interview. Make up flashcards, write a couple of interview questions down then shuffle and answer. This'll get you comfortable answering the questions in any order. Here are some things you can expect interviewers to ask you:
Tell me about yourself.
What is your greatest strength?
What is your greatest weakness?
Why should we hire you?
Drawing a blank? Don't worry it happens to the best of us. Take a second, think about the question then answer. Interview questions are made to put you on the spot. They want to see you think on your feet.
What other jobs can teenagers get?
Think outside the box! There are jobs out there that don't fall under 'typical teen jobs.' Ever think about starting your own job? There are a lot of opportunities for teens to earn money and help people at the same time.
Babysitter
Do you like kids? Babysitting might be for you. Offer to help your neighbors or your parents' friends with their kids. You can even advertise on community boards. Keep in mind, some parents might want you to be certified in CPR or have babysitting certificate.
Dog walker
Do you love dogs? Dog walking might be a job you'd enjoy. The only thing to keep in mind is that you must be willing to clean up after the dogs if they take a bathroom break while you're out.
Lawn mower
Like being outside? Mowing lawns might be the summer job for you! Mostly likely someone around you will need to mow their lawn at some point, so ask around. This is a routine task that most people are willing to have someone else do and don't mind paying for the convenience. But there are several factors to take into consideration before you start:
Lawn Mower fuel

Costs of operation
Size of lawns
Your availability
Your dedication
Neighborhood size
Willingness & ability to travel
Now that you know what's out there and how to ace that interview, start applying!
When you finally get that first paycheck, you might be tempted to cash it and spend it all at once. But depositing it in a checking or savings account instead is a better way to handle your new financial freedom and keep yourself from spending it too quickly.

Don't have a bank account yet? Look for a free checking account that won't allow you to spend more than what you actually have, like IHMVCU's No Overdraft Checking. You're just starting your financial journey, and preventing costly overdraft charges will help you to keep more of what you earn and learn to manage your money without harsh penalties.