Sell Your Home Faster: Affordable DIY Projects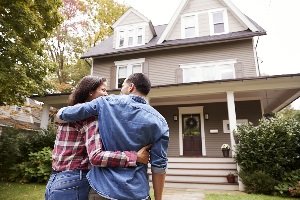 What people perceive is typically what they believe, which translates in real estate talk to: your home's value is in the eye of the beholder. For that reason, adding a few DIY improvements around your home could help increase its perceived value and, therefore, help your home sell faster. Check out these easy and affordable home-selling projects!
A Fresh Coat of Paint Goes a Long Way
Even in the cleanest homes, walls get dingy. Updating your home's look with a fresh coat of paint in a great color (try light, cool grays) will make it look years younger. Brighten old cupboards and trim with white paint and now you have a very modern looking home for very little money. This is a doable DIY project for most homeowners!
PRO TIP: Habitat for Humanity ReStore in Davenport sells paint and painting supplies on the cheap and the proceeds support a good, local cause.
Staging: Declutter & Downsize
Removing unnecessary clutter (both inside and out) might seem obvious but we don't always consider our own belongings clutter! If your home decor screams you and your very specific personality, consider neutralizing it in order to capture a broader audience. Family photos, collectibles and children's/pet toys should all be put away.

If you have large, bulky furniture, try removing a piece or two from each room. Reducing clutter and adding select decorative touches (also known as "staging") will make your home feel more open and airy, and will allow potential buyers to imagine their things in it.
PRO TIP: Striking a balance between clean and lived-in is the goal of a staged home.
Pristine Clean All Surfaces
Speaking of clean, do not skimp on the scrubbing! This one may seem obvious, but we're talking about taking your usual cleaning routine to an entirely new level. Pet odors: gone. Floors: pristine. Windows: sparkling.

Cleaning all surfaces will go a long way, but don't forget the obscure areas such as tile grout, dusty trim or the tops of your kitchen cupboards. This DIY tip takes a bit of elbow grease but can be done on your own for very little money, especially if you already have all of the necessary cleaning supplies!
PRO TIP: Your back yard is also a "surface!" Keeping pets and pet evidence out of sight is a good idea, especially for buyers with pet allergies.
To inquire about more tips on selling your home faster, visit qcelitehomes.com.