How to enjoy a long weekend without spending money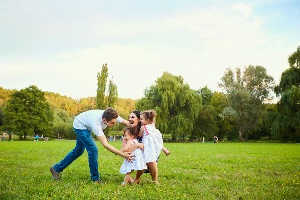 Memorial Day weekend is the unofficial kickoff to summer. For most people, it means enjoying the warmer weather, barbecuing, and spending time with friends and family. Unfortunately, the fun experiences during this weekend often cost money and, since it's the end of the month, you may be short on excess cash or completely out altogether.
In this case, you can implement a no-spend weekend (or, at least, a very low-spend weekend). This may seem like an impossible task, but there are plenty of things you can do to enjoy this weekend and not break the bank.
Visit Parks
Visiting your local and national parks is a fun (and free) way to get outside and enjoy the nice weather Memorial Day weekend often brings. While you're at it, pack a picnic lunch or bring grilling supplies with you (to parks that have charcoal grills) and make a day out of it.
If you can't decide which park to go to, I recommend West Lake Park because the scenery is beautiful, you can grill, go fishing, rent paddle boats for $10/hour, or walk along the lake's beach.
Check Out Local Events
Most communities have events going on during Memorial Day weekend that are fun to partake in or attend, and a lot of them are free. For instance, you can participate in or watch bike and road races like the Kwik Star Criterium in the Village of East Davenport.
The Criterium offers a full day of bike racing, kids bounce houses, and outdoor viewing areas for you to enjoy watching the races from. If you don't want to watch the races from a restaurant, you can bring some lawn chairs and a cooler and watch from the Village's park.
While you're in the Village for the Criterium, you can check out shops and maybe even grab a cheap bite to eat at one of its many restaurants, or enjoy a wine tasting at the winery ($7 gets you a tasting and a free wine glass!).
If races aren't your thing, look for music or art festivals. Most of the time these types of events make their money from vendor fees, so they're usually free to the public. It's a lot of fun looking at the variety of art styles or different bands that are present at these festivals, and you're sure to have an interesting Memorial Day weekend if you attend one.
Enjoy Area Attractions
Be a tourist in a neighboring city and find some fun and free things you can do there during the long weekend. One of my favorite ways to spend a day when I'm low on cash is by visiting Le Claire, IA. I stroll through the numerous shops, then watch the Mississippi River with a $6 drink in hand from the Mississippi River Distilling Co., and it is so relaxing. Even if you don't buy a single thing, visiting places like Le Claire is a fun way to get out of the house and enjoy your free time.
You can also revel in the farm-to-table movement during Memorial Day weekend by visiting your area Farmer's Market. The Freight House Farmer's Market has a huge variety of fresh food (and many vendors offer tasty samples of their produce!), several food trucks, and live music on the patio.
A perfect way to start your day? Get there in the morning, grab a $2 coffee from one of the coffee vendors, stroll around the market, then relax with some music in the shade of the market's patio.
Throw a Low-Key Party
If you're like me, when you think of a party, your first thought is, "How much is this going to cost?" However, a low-key get together with friends and family doesn't have to cost much at all. Most people don't want to spend a fortune throwing a party but they are willing to contribute to a party so they can see the people they love.
Plan ahead by buying a (cheap) main dish like hot dogs and buns, then ask your guests to bring a side, drink, or dessert. People will love getting together on this weekend known for parties and not having the expense of providing all the food (and so will you).
If you're tight on cash at the end of the month, you can absolutely still enjoy Memorial Day weekend. If you get creative, you can find fun and free (or very cheap) things to do and, if nothing else, go outside and enjoy the warm weather now that it's finally here!