Bringing home baby: how to prepare for a new baby on a budget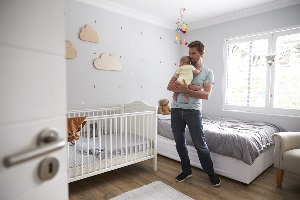 Babies are notoriously pricey. Between diapers, formula, clothing, day care, and other necessary expenses, the costs can add up quickly. In fact, a quick Google search will show you that preparing for the arrival of a baby can cost anywhere between $2,000 - $7,500.
So, with such high costs, how can you prepare for your baby on a budget? Here are seven things I did to lower the cost of preparing for my daughter's arrival that might help you too.
I took advantage of Amazon baby registry perks

Amazon baby registries have two perks, both of which can save you a little bit of money: welcome boxes and completion discounts. A free box full of baby supplies (like a muslin blanket, a cute rattle, and bottles) and a 10-15% discount that you can use 60 days before or after your due date; need I say more? These perks are totally worth the small amount of effort it takes to create a baby registry! Side note: in order to receive a Welcome Box, you'll need a Prime membership.

I started saving for baby expenses

Throughout my pregnancy, I put away $50 each paycheck to be used for anything baby related after my daughter was born, but you can save whatever amount works best for you. If you set aside just $10 per paycheck, you'll have around $160 saved by the time your baby is born, and that gives you a cushion of about 5 boxes of diapers or 6-7 containers of formula.

Important: Put this money into its own savings account so you're not as tempted to spend it on every day things.

I sought out specials from stores

Whether you're buying diapers, formula, or a crib and dresser set, watch for store deals. Target, for instance, will occasionally offer gift cards in return for buying a certain number or dollar amount of baby items.

Between a 15% online discount and a gift card deal, I ended up saving $60 and receiving a $40 gift card when I purchased my daughter's crib and dresser. Pro tip: in addition to watching for store specials, brush up on your old math skills and start figuring out which brand of diapers and box counts are cheapest per diaper. This will save you money in the long run!

I researched which items babies actually need during the first 3 months

Talk with friends and family who have babies and find out the essentials they'll need during the first 3 months of life. Since newborns really only need food, clothing, shelter, occasional baths, and love, I think you'll find the list of "must haves" to be much shorter than you think.

Once you have the list of things you'll need, try to find them on sale or gently used, and don't refuse hand-me-downs!

I asked my health insurance about breast pump coverage

Electric breast pumps can cost between $40-$3,000, but fear not, because the Affordable Care Act requires most insurance companies to cover the cost of breast pumps, so call your insurance company to see what's covered for you. I was pleasantly surprised to find out mine was covered 100%.

I didn't buy things I wasn't sure I'd use

A good example of this is breastfeeding supplies. Aside from my breast pump, which my insurance covered, I didn't buy things related to breastfeeding because I didn't know if I would use them.

No one is guaranteed a successful breastfeeding experience and supplies such as breast pads, nursing bras, and breastmilk bags can be pricey, so I didn't buy them until I knew I was going to be breastfeeding my daughter for sure.

I started buying things through store pickup

Oftentimes when you purchase something online and pick it up in the store, it's cheaper than simply buying it from the store. Start researching the differences in price for feeding and diapering supplies between items online and the same items in store. For instance, I save $4 on breastmilk bags when I buy them through store pickup!

I registered my daughter for Dolly Parton's Imagination Library
This program sends a free, age appropriate book to your child every month from birth until they turn five years old so if you're on a budget and want to guarantee your baby is exposed to new books on a regular basis, this is a great program to register for.

You can sign your baby up before they're born and have peace of mind that you're setting your them up for years of exploring their imagination and increasing literacy at no cost to you.
Preparing for the arrival of a baby can be such a fun and hopeful time, but the costs can be daunting. However, there are many ways to prepare for your baby on a budget, not limited to the above list.
Do some research, ask your friends and family for money saving tips, and decide what you are comfortable with spending on baby items. Do you have different ideas from the above list? Share your best budget-friendly tips for preparing for a newborn!