How I'm saving $1600 for vacation just by bringing my lunch from home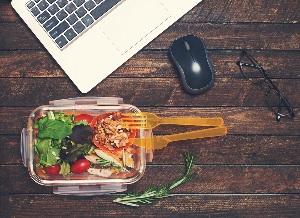 My name is Amanda and I'm addicted to going out for lunch.
Okay, maybe I'm not actually addicted but I seriously go out for lunch three or four times a week. It's not that I don't know how to cook or have food I can bring from home. My husband and I cook dinner nearly every night of the week, and intentionally make enough for lunch for the next day. I have options. I only need to grab something from the fridge on my way out the door. I just don't. (Or sometimes I do and I still don't eat it. I have a problem.)
Why am I telling you about this?
Because going over my monthly statements I discovered that I personally spent $134 on lunch alone in February. I'm telling you the amount I spent in February because it's far less embarrassing than what I spent in January. For comparison, my husband only ate lunch out once in February. He ordered Jimmy Johns and spent $15. I'm the problem here.
If I were to spend the same amount on lunch every month for a year, that's $1608. For Thai noodles and crispy chicken salads. Not my best investment. . . Which got me thinking: what else could I do with that $1608? After minimal research I've put together a list of things you can buy with $1608:
Half of a 3% down payment on a $100,000 house
A flight to Paris
A few days at a tropical, all-inclusive resort
My first car
At least one college text book
One month's mortgage payment for a house much nicer than mine
The list goes on and on. And you know what?
I really would like to go to Paris or spend a few days sipping Pina Coladas on a beach somewhere, but I've apparently chosen drive-through chicken nuggets over vacations. So I'm changing my ways, big time.
The good news is my husband and I already came up with a plan to spend less on food in general about a year ago (he's just the only one who stuck to it, apparently). Here are the details:
We have a weekly grocery budget of $80. It might seem like a lot for two people but that generally feeds us three meals a day for the week, which averages to about $3.80/meal. We also do most of our grocery shopping at Aldi, which stretches our dollar much further than it would at some of the other grocery stores in our area.
After years of practice, we've found that putting together a plan of attack before we head to the store helps us buy only what we need for our meals and mostly avoid impulse purchases. So before we head out we always make a list of what we're going to eat for the week and the ingredients we need to make it happen.
Some people do a weekly meal prep every Sunday and cook all their meals at once and you can do that with this meal plan if you want, but we enjoy our nightly routine of cooking dinner together.

Here's an example of a week's worth of meals for two in our house:
Sunday
Breakfast: scrambled eggs & toast
Lunch: Frozen pizza
Dinner: Sweet potato & black bean enchiladas
Monday
Breakfast: 2 hardboiled eggs (him), oatmeal with berries & almond milk (me)
Lunch: leftover enchiladas from the night before
Dinner: Rigatoni with asparagus and goat cheese
Tuesday
Breakfast: 2 hardboiled eggs (him), oatmeal with berries & almond milk (me)
Lunch: the last leftover enchiladas
Dinner: Tex-mex quinoa casserole
Wednesday
Breakfast: 2 hardboiled eggs (him), oatmeal with berries & almond milk (me)
Lunch: Leftover quinoa casserole
Dinner: Spaghetti with tomato sauce
Thursday
Breakfast: 2 hardboiled eggs (him), oatmeal with berries & almond milk (me)
Lunch: leftover spaghetti
Dinner: leftover rigatoni from Monday
Friday
Breakfast: 2 hardboiled eggs (him), oatmeal with berries & almond milk (me)
Lunch: leftover spaghetti
Dinner: Falafel with pitas, roasted brussels sprouts
Saturday
Breakfast: baked eggs with ricotta and spinach, toast
Lunch: Fancy instant ramen (we add whatever veggies we have left, fresh ginger and garlic to chicken Top Ramen)
Dinner: The last of the quinoa casserole
Here's my receipt from Aldi for the week's groceries. We went a little over budget ($1.97) – the ricotta cheese and avocados were definitely an impulse.
Note: Our receipt doesn't include all of our ingredients because some things we just always have on hand – dry spaghetti, spices, cooking oils, instant ramen, oatmeal. I also had goat cheese left from the previous week's trip to the store.
We've been trying to maintain a mostly-vegetarian diet at home, which helps keeps our costs low. But we used this same grocery budget while we were eating meat in nearly every meal too. We chose the cheaper cuts of meat, like chicken thighs and fattier ground turkey (as opposed to ground turkey breast which is sometimes $3 more expensive).
Turns out, when you're not paying for a week's worth of groceries AND a week's worth of greasy restaurant burritos there's a lot more money in the bank. Here are some tips to help you create your weekly shopping list, create a meal plan and start saving for that vacation.
Try your hand at making sauces yourself.
I make my own spaghetti and enchilada sauce from canned tomatoes, spices and veggies. Compared to the prepared stuff in jars, you can make nearly twice as much for half the price. A 28 ounce can of crushed tomatoes is generally less than $1 and makes about six servings of spaghetti sauce. Pinterest is a great place to find recipes if you need some guidance.
Choose recipes that share ingredients.
Spinach, bell peppers, mushrooms, onions and garlic have a place in nearly every dinner on the meal plan above. We save money by buying fewer things and rarely find ourselves with extras we won't eat. If we come to the end of the week and haven't eaten them all, together they make a great salad or really liven up a bowl of cheap instant ramen.
Shop on a full stomach.
We always try to hit the store right after breakfast on Sunday mornings. If we go between meals, we almost always end up spending more and coming home with a lot more junk food and impulse buys.
Don't pay for convenience.
It is really nice to have access to easy, packaged snacks when you're busy or to cut down on prep time by buying shredded cheese. But those little costs add up. Instead, buy blocks of cheese and shred them yourself. It costs nearly half as much and doesn't have any weird anti-clumping ingredients. Buy big bags of almonds, baby carrots, chips or whatever else you like to snack on and portion them out in plastic baggies when you get home from the store.
Clean out the fridge before you go.
Have you ever found yourself standing in the middle of the produce section wondering if you're actually out of something or not? Or come home with a gallon of milk only to find a gallon already in the fridge? Clean out your fridge and pantry before you make your meal plan, and work in ways to eat whatever's left early in the week. Only buy what you don't already have. Save big money.
Now that you have a plan to save money, set up an automatic transfer from your checking to savings every day in the same amount you would have spent on picking up lunch. See you in Punta Cana next year – I'll be the one with the Pina Colada.
If you need to set up a budget before you can even think about cutting it back, here's the super lazy version of the envelope budget that helps me keep my spending in check.