The expenses everyone hates about Valentine's Day: broke girl edition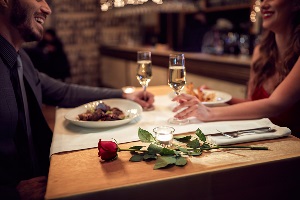 Welcome to the most lovey dovey, color coordinated time of the year! Also, one of the most expensive, and I'm not having it. If you too are frustrated by how obnoxiously expensive Valentine's Day is, you'll be relieved to see that you're not alone. If you LOVE Valentine's Day and everything that goes with it, this will be an eye opener.
The dinner: Everyone knows that Valentine's Day is a busy day no matter where you go. From the fanciest restaurant in town to McDonald's, you can plan on waiting to eat. And let's be real, if I wait over an hour to be seated I'll be hangry.
Instead of going through all the hassle and expense of going to an overly crowded restaurant, make dinner at home. It's easier, cheaper and everyone loves a home cooked meal. But if you're super set on eating out, wait a few nights for the craziness to die down.
The oversized stuffed animals:
Every girl's dream is to have a stuffed animal so large that it could suffocate her in her sleep, right? The (cheapest) average bear is $40-$50 on Amazon. Don't waste your money on something that's cute for 5 minutes and otherwise serves no purpose but to stare at you while you sleep.
Rather than spending a boat load on a creepy stuffed animal, spend that money on something you can do together. Try gifting your favorite game. You can play together, and they can think of you every time they bust it out at a party.
My personal favorite affordable date-night game is Jenga. Not only is it a strategy game, you get to watch it physically smash your opponent when they fail. Ultimate satisfaction for anyone with a competitive streak.
The outfit:
With all the expenses of everyday life, do you have enough money to splurge on an $80 dress? Most people don't have that kind of money to drop on a new outfit. Especially if you're only going to wear it once.
So instead of wasting your money on a new dress, change up your look with what you already have. Add a hat, a scarf, some jewelry or put together an outfit from pieces you've never worn together.
Flowers:
A dozen long stem red roses on Valentine's Day. How original. Yes, they're pretty and they show you care. They also show you have poor money management skills because dropping $40+ on something that's just going to die a in a few days is straight up irresponsible.

Instead, maybe get that special someone a potted plant that will last. For example, succulents are SUPER popular right now. They're tiny and cute and usually come in little decorated pots. Trust me, the girls (and boys) dig them. If you can't trust your SO to keep even a little plant alive, you can get fake ones so they won't die! Real, fake, your significant other isn't going to care as long as it's cute.
Candy:
Valentine's Day is so close to the beginning of the year that most people are still on this new year, new you kick. So, if you know your significant other is on some fancy no-carb-gluten-free-clean-eating-vegan juice cleanse, buying them 10 pounds of chocolate isn't a clever idea. Save your life and their hips this Valentine's Day and stay away from the chocolate.
Cards:
I tend to go for the cheesy/funny cards like, "If you were a fruit, you'd be a fineapple." Get it?

However, even buying a simple card can be expensive nowadays! Don't waste your time picking out the perfect card, on top of the $5+ it will set you back.
Make your loved one a card instead. Take out your kindergarten scissors, construction paper and the glue you used to peel off your hands, and craft your little heart out! It will mean much more to them anyways, knowing it came from you and not the Hallmark Corporation.
Now that you're self-conscious about how much you spend on V-Day, are you looking for something cheaper to do? If the home cooked meal or board games aren't your thing, IHMVCU is here for you. Head on over to our Member Advantages page for discounts to events that will wow your date.