How I saved more than $300 a month by meal prepping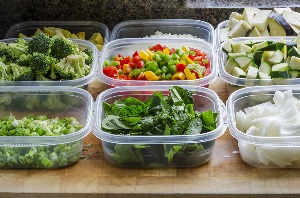 I love the whole idea of "new year, new me." Not everyone takes new year's resolutions seriously, but for me it's great motivation to live healthier, save money and set other goals. Making a change for the better is always a good thing (no matter what time of year).
This year, my fiancé and I made the resolution to save more and eat healthier. Because we both have busy schedules, I knew that meal prepping was going to be a huge factor in whether we were successful, so that's where I started my plan.
I always thought that I couldn't afford a healthy lifestyle because "health" food seems so much more expensive than the alternative. I was SO wrong.
To find out what we could afford (and what we might save), we started with our bank statements from the previous month. My fiancé and I added up cost of every time we took our family out to eat, stopped for coffee, ordered breakfast pizza or even grabbed an energy drink from the gas station. We basically looked for any food or drink purchases outside of our regular trip to the grocery store.
I can honestly tell you I was a little sick to my stomach when I saw the total. We didn't realize that in all those little moments of "convenience" (laziness, really) we were spending a ridiculous amount of money on food and drinks every month.
So, we made a meal plan. Here's how it works for me:
I start by making a grocery list of all the things we need for a week's worth of meals. When we get home, I prep the whole week's menu at once and store it in individual portions so there's never an excuse to grab something else. It's always ready to go.
After just one month we saved more than $310!
But, the key to success in everything is moderation. We give ourselves two "cheat meals" a week, but cut out those impulsive energy drink purchases completely.
Making this change was a little scary for me at first, but I'm so glad we did. Now, we feel better and have more energy (no thanks to Monster). The added bonus of saving money every month is what keeps me motivated to not only keep this new year's resolution, but a new way of living my life the best way possible.
Want to see what effect meal prepping could have on your budget? Here's my favorite recipe (and my kids love it too!):
Jessica's Easy Salsa Chicken Bowls
4 boneless skinless chicken breasts
1 jar of your favorite salsa (I use a habanero garlic salsa)
3 cups uncooked brown rice
Preheat the oven to 375 degrees.
Cook the rice however you prefer. I use a rice cooker and a 1:1 ratio of rice to water.

Arrange the chicken breasts in a 9x13 casserole pan and pour the salsa over top.
Bake for 25-35 minutes until the chicken is cooked through.
Put one scoop of rice (about ½ cup) and one cooked chicken breast each in reusable food storage containers. You can scoop up some of the salsa from the pan and drizzle it over top if you'd like. Put the lid on and store in the fridge until you're ready to eat it.
That's it! You're one step closer to meal prepping your way to extra cash!