3 reasons you should be paying with your mobile wallet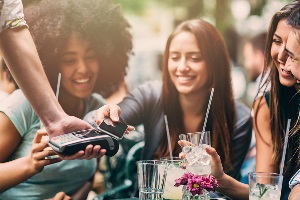 Haven't heard of mobile wallets yet? Mobile wallets are a fairly new technology that allow consumers to make purchases using their phone. More commonly referred to as Apple Pay, Android Pay, or Samsung Pay (depending on what type of phone you have), mobile wallets allow you to pay in store without ever taking out your credit or debit card.
1. Security advantages
As you might imagine, not having to take out a physical card has a lot of security advantages. The main benefit of using a mobile wallet is that your information is never shared with the merchant. This is possible because of a technology called tokenization.
When you pay by swiping a debit or credit card the old-fashioned way, all your card's sensitive data (like your card number and expiration date) is transmitted through and saved within the vendor's payment system. Which means if a hacker breaches that system, they have access to the information necessary to duplicate your card and start making purchases. With mobile wallets, the vendor only receives a randomly generated number called a token, which is enough to complete the transaction but doesn't actually carry any of your card's sensitive information. Because your information is never passed to the vendor, a hacker can't get your information by gaining access to the vendor's data storage.
Another great security feature of mobile wallets is your phone itself. Unless someone has stolen your fingertips or knows your phone's pin code, possession of your phone won't give thieves access to your stored cards. If you do happen to lose your phone, most cell service providers have a feature that allows users to go online and mark a phone as lost, disabling all mobile payment features.
2. Quick & easy
If you've ever made a payment with a chip card, you know that even though it actually only takes a few extra seconds to process a transaction it can feel like much longer than that. But there's good news – not only are mobile payments extremely secure, they also process extremely quickly. Walk up to the register, get your phone out, hold it up to the card reader & enter your passcode or scan your finger. Done! It really is that easy.
3. Loyalty rewards programs
Mobile Wallets don't just make paying easier, they can help you manage your various customer loyalty programs, too!
Starbucks, Walgreens, Kohls and a host of other companies make it easy to rack up rewards points or get discounts by using your mobile wallet. Just add your loyalty card to your digital wallet the same way you would a credit or debit card, and stop digging around for that piece of plastic in your purse.
Ready to start paying the faster, more secure way? All IHMVCU credit and debit cards are fully functional with Apple Pay, Samsung Pay and Android Pay.
Learn how to set up your cards based on phone here: