How to share expenses with a roommate without going crazy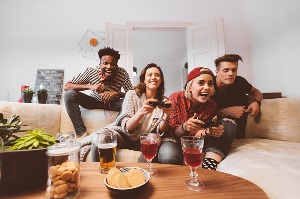 At one point or another you'll experience that feeling of craving your own space. So, what do you do? You move out of your parent's house…and get a roommate. Living on your own is expensive. With a roommate, the bills are less of a burden but living with someone else can also have its difficulties. Who pays what? How are you going to split the bills? Who's furnishing the house or apartment? These are all things to consider when moving out. Here are some tips on how to make your life easier.
Communicate
One of the best tools you have is the ability to communicate. This will be extra important when it comes to sharing expenses. Do yourselves a favor and communicate about what bills you'll have and how you'll pay them. Talk to your roommates right away when a problem arises so there isn't tension about anything.
Be organized
Develop a game plan. When expenses are organized and divided between people they're easier to keep track of. Here are some ways you can organize your expenses:
Make a spreadsheet

This is an easy way to make sure that everyone knows what they're paying, when it's due, and how much it is. If you want it in physical form print it out and hang it up where everyone can see it and can't avoid it, like the fridge or the back of the front door.

Use an app

There are plenty of apps that can help you keep control of your bills and make sure everyone is held accountable. One of the best rated apps is Splitwise, and for good reason! This app takes out all the guess work on what's fair and uses a fairness calculator to split your bills. You can also see who owes who and how much money they owe. When a bill is paid only a simple PayPal transfer is required.

Group text

Being the "mom" of the group isn't always a bad thing. Take that role with pride and set up a group chat between everyone so you're in constant communication about the bills. If everyone is constantly talking it will be harder for someone to forget when a bill is due.
Pay for some things separately
When you live with a roommate, things like rent and utility expenses should be split amongst the group (aka the things you all use). But, some things should be paid for separately. Some of them being:
Food

If everyone buys their own food, there's never any confusion about who buys the groceries, or who ate what. Trust me when I say no one likes to be punished for eating the last of someone else's precious pizza rolls.

Toiletries

Toiletries are small items, but should still be kept separate. This is just another thing that someone can get blamed for using the last of (once again, not a good time). Also, do you really want to share your deodorant?

Furniture

When you buy furniture, and intend on living with a roommate thinking about the future is a necessary evil. Eventually, someone will move out and then the problem of who gets what arises. If you each buy different pieces of furniture, that uncomfortable conversation will never take place.
Living with a roommate doesn't have to be such a scary thing. It can really be fun! With these helpful tools, you're now ready to have that conversation with your soon-to-be roommate.