How much does a new car really cost?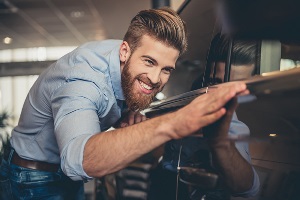 Shining new paint, perfect interior, that "new car" smell.
People like to imagine themselves driving a brand-new car off the lot without a worry in the world. For most people, it's more of a fantasy than reality.
According to Cars.com, the average cost for a new vehicle in the first quarter of 2017 was $31,400 after incentives. For many, buying a new car is one of their biggest investments aside from owning a home.
So is it worth it to buy and drive a new car straight out of the showroom? What kind of expenses are hiding behind the sticker price? Should you consider a used car rather than buying new?
If you've ever visited a car dealership (or seen a commercial for a new car) you know they love to talk about the great savings and affordable payments plans that come with a new car. Most salespeople work on commission and may smooth-talk you into buying additional features that you don't really want or need. Be careful or you may shell out way more cash than you anticipated.
If you can avoid the suggestive selling of the salesperson, there's something you can't avoid: depreciation.
Many people don't know that the minute you drive that new car off the lot, it can depreciate 11% in value or more. Even worse, your car can depreciate as much as 73% after five years of ownership!
Beyond Sticker Price
Most people don't consider how many expenses exist in addition to the upfront cost of their car. Insurance, maintenance and more all factor into the total cost of owning a new vehicle.
Taxes, License & Registration Fees
These fees can average $665 per year according to AAA, and will fluctuate based on which state you live in.

Insurance Premiums
The average annual cost for auto insurance was $907.38 in 2014 according to a study by Quadrant Information Services. To get a better idea of what you'll be paying each month, try an insurance rate calculator.

Maintenance and Repair
YourMechanic.com states the average car costs $1,400 in maintenance for the first 25,000 miles, and the cost increases exponentially up to the 100,000-mile mark. The good news is for every mile past that point, maintenance costs tend to even out.

Fuel Costs
Annual fuel costs fluctuate based on your vehicle's MPG, maintenance upkeep, average fuel price, and how many miles you drive each month. Use the U.S. Department of Energy's Fuel Cost Calculator to estimate how much you'll spend on gas to get around.

Financing
According to ValuePenguin, the national average for a 60-month auto loan rate in 2017 is 4.21%. For example, you'll pay $3,698.25 in interest alone if you buy a car with a $31,400 loan. IHMVCU has a Vehicle Payment Calculator to estimate your monthly car payments

Depreciation
The largest ownership expense of a car is how much value it loses each year. In the first year alone, cars can lose 20% of their value, according to Edmunds. Consider using a depreciation calculator through Edmunds or Kelley Blue Book to get an accurate estimate of auto value loss per year.
Alternative Solution
If owning a new car doesn't seem worth it to you or your wallet, consider buying a used vehicle.
Buying a used car can save you thousands of dollars compared to new. Used cars can still be nice, low mileage, safe and clean. Online used car resources have customized searches so you can find exactly what you're looking for. Plus, if you find a certified used car, it's practically like new! Used cars will get you from point A to point B safely and in style without breaking the bank.
Looking for a new set of wheels? IHMVCU has you covered for financing. Find out more about our Auto Loans and how to apply.