Student Loans: how much should you borrow?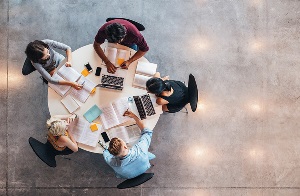 If you're considering taking out student loans to help pay for college, you're not alone.
According to Lend Edu, over 43.3 million students have taken out student loans nationwide. Student Loan Hero says the average 2016 graduate has $37,172 in student loan debt — 6% more than the previous year. This statistic may be even worse for some because they chose a more expensive education or borrowed more than they needed.
Now their hard-earned paychecks are being consumed by the monster known as student loan debt. Student loans may seem like an expensive and complicated ordeal that continues to haunt you after graduation. But, with some careful research, you can borrow exactly what you need and not a penny more. Here's what you need to know:
Federal Loans
Subsidized Student Loans:
Subsidized Stafford Loans are the most common subsidized federal student loan. These are loans from the federal government with a special perk: the government will pay the interest while you're in school. Students whose families make less than $50,000 typically qualify for Subsidized Stafford Loans. The amount you can borrow increases every year you're in school:
Freshman: up to $3,500
Sophomore: up to $4,500
Junior and above: up to $5,500
Side Note: Even though you're allowed to borrow the maximum amount doesn't mean you need to.
The main benefit of subsidized loans is favorable repayment terms. As long as you're at least a part-time student, the government will pay the loan's interest while you're in school and for six months after graduation. The maximum amount of subsidized student loans you can borrow is $23,000; so keep that in mind if you plan to stretch out your education over more than four years.
Unsubsidized Student Loans:
Unsubsidized Stafford Loans are similar to subsidized Stafford loans in some respects, but there are important differences. The biggest difference is that you, the student, are responsible for all interest accrued while you're in school. But, it's common for students to defer their payment until after graduation. These loans are available to all students, regardless of their financial situations.
The annual loan limits range from $5,500 ‒ $12,500 for undergrads depending on your year in school and whether or not someone can claim you as a dependent. Graduate students can borrow more — $20,500 per year. The maximum accrued for these loans is $138,500 for undergraduate and graduate students. If you're a medical student, the limit is hiked up to $224,000.
Want to know more about the specific details of federal student loans? Check out the U.S. Department of Education's Federal Student Aid website.
Private Loans
Private loans are borrowed from private financial institutions like banks and credit unions. You should only resort to private loans if you still can't afford college after exhausting all other options (federal loans, scholarships, grants, savings, work wages, etc.).
Most private loans have higher interest rates than federal loans. Although interest rates are based on the applicant's credentials and credit score, private loan rates can range from 2.13 ‒ 9.39% according to Student Loan Hero. Keep in mind that you'll be responsible for paying the interest, not the bank.
Also, private student loans have fewer protections in place for the borrower (like grace periods, repayment plans, etc.)
Grants/Scholarships
Grants and scholarships are one of the best ways to lighten the financial load for students. Although they may not seem like a substantial amount individually, they can amount to thousands of dollars altogether. It may seem like a drag to write an essay about why you need a scholarship, but it's more formality than hardship. IHMVCU offers scholarships for members going to school — and that's pretty cool!
Another option for easier student loan repayment is a career in public service. If your degree is recognized for public student loan forgiveness, you can repay student loans based on your monthly income.
Student loans can be a slippery slope if you don't know what you're doing. Taking out too many unneeded high-interest loans can cause financial strain after graduation. If you want to be safe, College Board advises that your student loan payments should only be 10 ‒ 15% of your total monthly income after graduation.

Need help paying for the upcoming school year? Learn more about student loans at IHMVCU.