College cost comparison: on-campus vs. off-campus living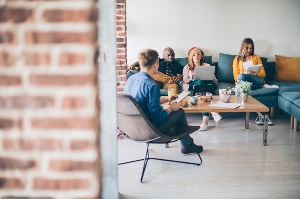 Contrary to popular belief, college students don't actually live at the library. College students need a place to live where they can socialize, receive packages, and eventually sleep at after pulling an all-night study session. Most students choose to live either on campus in dorms or off campus in apartments. Alongside tuition, room and board is where a substantial amount of your money will go when paying for college.

The cost of living has risen dramatically over the years so, it's important to determine which living arrangement is right for your budget. Fortunately, after weighing the pros and cons of the two options, this dormitory decision will be easier for a college student to determine.
On-Campus Housing
According to MyCollegeGuide, students can expect to pay an average of $8,887 or $10,089 per year at public and private schools respectively to live on campus. On-campus housing is more popular with underclassmen, specifically freshmen. Some Colleges (including mine) actually require all freshmen to live in on-campus dorms for at least their first semester.

To find out what housing options you have, ask your school about residential requirements for underclassmen.
Pros:
»Location, Location, Location!
One obvious perk of living on campus is that you'll be closer to classrooms and facilities. Your commute will be shorter and resources, like the cafeteria, more accessible. If you want to be engulfed in the college atmosphere, on-campus living is the way to go.
»All-In-One Payment
When you pay to live on campus, it's often an all-inclusive package (internet, heating, air conditioning, janitorial staff, etc). Meal plans are usually paired with on-campus residency, but you can opt out to save money if need be. Plus, cafeteria food gets old after a couple weeks, believe me.
»Community Cluster
Living on campus puts you closer to your peers, including a residential advisor. Most on-campus residences also have a lounge for students to gather and mingle and you'll have more access to student engagement and organizations.
Cons:
»Cramped Quarters
Unless you want to pay extra for a single room, you'll probably have to share an already not-so-spacious living area with a roommate. This obviously means less privacy and if personalities and interests differ too much, it can be awkward and unpleasant for both parties.
»Rules & Regulations
Another downside to living on campus is strict rules and regulations. There are quiet hours when you can't cause ruckus or jam out to your favorite music and many dorms have restrictions on what appliances are allowed due to strict fire codes. Also, mandatory hall meetings can be a buzz-kill and midnight fire alarms can lead to lack of sleep.
»Moving Pains
Having to move your belongings out of the dorm at the end of every year is another inconvenience to consider; especially if you're "lucky" enough to be on the 10th floor. Some colleges have students that will help during move-in/move-out days, but you may have to ask your family members to carry your mini fridge and futon all the way up to your room and out again at the end of the year.
Off-Campus Housing
Most upper classmen live off campus. It can be a cheaper alternative to often overpriced on-campus housing. Business Insider found that it was 5% - 69% cheaper if students shared a two bedroom apartment instead of living on campus at 75% of popular colleges across the nation. But, there are exceptions. Off-campus housing costs fluctuate depending on your wants and needs.
Pros:
»Freedom!
One of the best perks to living off campus is distance. It can be a relief to get off campus for peace of mind. And you'll be under less scrutiny and regulation which gives you more freedom and autonomy.
»Real Life Experience
Living off campus will give you budgeting experience. Paying rent, utilities, bills, food, and other living expenses is your responsibility every month. You'll be responsible for cleaning, furnishing, chores, and overall household upkeep, too.
»More Flexibility
Off-campus housing is often bigger and you'll get to choose your own roommates. Plus, you'll have more options for decorating and furnishing your place because you don't have to follow the strict rules of on-campus housing.
Cons:
»Complexity
Splitting rent and utilities with roommates is easier said than done. There's a chance you'll have to deal with people being late with payments or trying to weasel out of paying for their fair share. This can be frustrating and lead to damaged friendships.
»Longer Commutes
Living off campus means you'll be farther away from academic facilities and other resources. Be prepared to walk or use other means of transportation to get around. You'll have to leave earlier to get to class on time, so you may not get as much sleep as you would in a dorm.
»It's On You
You'll be held responsible for any damages to the property and some landlords aren't very forgiving. If you want to have a party at your house, you'll be the one cleaning up after the attendees the morning after. And if authorities are called because of a noise complaint or otherwise, you'll be the one who has to talk to them about the issue.
There's no definitive way of saying whether living on campus or off campus is better. Essentially, you'll want to compare and contrast what you're getting with multiple locations and for what price. After some thought and deliberation, I'm sure you'll find a residence that matches what you're looking for at a price that fits your budget.
P.S. If possible, live at home and commute to college to minimize your living expenses to nearly zero - thanks Mom and Dad!

Looking for help funding your college education? Learn more about scholarships and student loans from IHMVCU.


About the author:
James Beiderbecke is an intern in the IHMVCU Marketing department. He's currently a senior at Bradley University studying Management & Leadership. After college, James hopes to some day become an executive at an exciting and innovative company. In his free time he enjoys chess, sports, video games and hanging out with his fraternity