How to have a wedding without going broke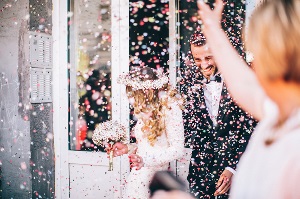 So you got engaged! After all that initial excitement wears off, you might start experiencing something much less warm and fuzzy. Something a little more cold and terrifying: financial dread. How are you going to pay for a wedding?!
If you're using Pinterest for inspiration, it probably doesn't come as a surprise that according to wedding planning website The Knot the average wedding in 2016 cost $32,641. $32,641. For. Just. One. Day.
BUT, just because it's the national average cost doesn't mean it's impossible to have a beautiful wedding on a reasonable budget. The key is to focus on what's important to you.
Step one: establish a budget
Before you stalk dresses online, before you ask your friends to be in the wedding party, before you even pick a date, you need to figure out what you can afford.
Whether or you realize it or not, every decision you make will affect your wedding budget in one way or another. Don't let your excitement rush you into making a decision now you that you won't be able to afford later.
You might have to have a couple awkward conversations with your future spouse, family and future in-laws. Bite the bullet. The sooner you get it out of the way, the sooner you can move on to the fun stuff.
Paying for all or part of the wedding yourself? Be honest about your ability to save. If you've never saved for a goal before, don't expect to sock away $5,000 in six months. Talk with your fiancé about how much you can actually afford to put away every month, and then stick to it.
Step two: narrow down the guest list
This is one of the hardest things to do. It's tempting to invite everyone you know, even people you haven't seen or heard from since high school.
Think about what kind of event you really want to have – a big celebration, a low-key gathering, a swanky cocktail party – knowing that every person on your guest list comes with a dollar sign. The fewer people you invite, the less you spend.
Step three: pick a date
Don't assume you have to get married on a Saturday afternoon because it's customary. Choosing an off-peak day, like Friday or Sunday, can save you a lot of money on everything from venue rental fees to food and beverage minimums. Many venues do the more complicated decorating, like ceiling drapery and twinkle lights, the night before an event. Opt for Friday, and you might get to use the Saturday wedding's venue-provided décor for free.
June – September is generally considered peak wedding season. To entice more customers in the slow months, many venues offer off-peak discounts in Oct – May.
Step four: select a venue
You can save quite a bit by choosing a venue that works for the ceremony and reception. Not only does it make for a smooth timeline day of, but you'll only have to make one deposit and (ideally) pay one rental fee. Plus, you won't have to pay to transport the wedding party.
Choose a location that's already attractive without expensive decorations. If you already love the look and feel of your location, you'll only need flowers and other decorations as accent pieces. It shouldn't come as a surprise to learn that it costs a pretty penny to make a hotel ballroom look like anything other than what it is.
A venue that lets you choose your own vendors (caterer/DJ/florist/photographer) can be a lot less expensive than an all-inclusive option. Avoid food and beverage minimums by bringing in your own catering. Skip the annoying DJ and plug in your own wedding playlist. The options are limitless, and much more customizable to your tastes.
For the ultimate in venue savings, ask a favor. If you know a friend or family member with a beautiful home or yard, it's worth it to skip the pricey venue all together and see if they'd let you have the shindig at their place.
Step five: rethink dinner
Sure, everyone expects to eat chicken and fish at a wedding. But that doesn't mean you have to.
Serving something other than traditional catered fare could save you a bunch, and make your wedding a little more memorable. Depending on your venue, you could host a potluck, hire your favorite food truck or even roast a whole hog. You'll be eating food you know you love, plus your overall cost per person will probably be much lower.
Step six: have fun
You'll (hopefully) only get to do all of this once, so have fun. Wedding planning can be stressful, especially if you're on a tight budget.
It's easy to let other people (a.k.a. Pinterest) make you feel like your wedding needs to look one way or another. Don't let it sway you from what you really want and can afford. The best wedding budget advice is to be true to yourself when planning.
Need some help funding the big day? An IHMVCU credit card with a low rate and cash-back reward might be just the thing you need.