The student loan mistake that's costing you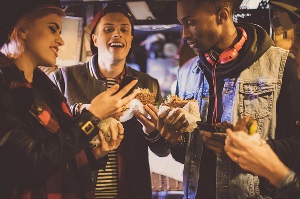 The great thing about student loans is the fact that they're super easy to understand and nearly impossible to abuse, right?
. . . Okay, maybe not. While they do make college possible for a lot of people who wouldn't be able to afford higher education otherwise, there are definitely some cracks in the system that are leaving students with a mountain of debt that gets bigger and bigger with every graduating class.
According to a survey conducted by NerdWallet in November, 48% of student borrowers said they could have borrowed less and still paid for their education.
So why are so many students borrowing more than they need?
One reason may be due to a disconnect between what they borrow now and how it might affect their payment and lifestyle in the future. To a broke college student, an extra $100 a month for beer and pizza is pretty appealing.
It may seem insignificant, but an extra $100 a month can actually make a pretty big impact on future payments. Say the bare minimum you need to graduate is $35,000. If you borrow only that at an average interest rate of 5% with a 10 year term, you're looking at a monthly payment of $383. That's a pretty penny for a recent graduate in an entry level position. Add an extra $1200 a year for four years, and that monthly payment jumps to $436 every month.
How do you avoid over borrowing?
The easiest way to prevent taking out more student loans than you need is to calculate exactly how much you'll need to graduate and be honest with yourself about how much of that actually needs to be financed.
Can you work a part-time job to pay the rent in a cheap apartment? Can you pay for groceries or a meal plan out of pocket? Can you afford used books online? If the answer is yes, stick to borrowing only what you need for tuition.
Don't pass up the opportunity for "free" money like scholarships and grants – a mistake 31% of students surveyed by NerdWallet regret making.
If you still need loans after calculating how much you have in "free" money and how much you can pay for on your own, fill out the FAFSA (Free Application for Federal Student Aid) and opt to pay for as much of your schooling with federal loans as you can before turning to private lenders.
Read more about the difference between federal and private student loans.
If you still need help, IHMVCU offers student loans with borrowing limits to keep you from taking more than you really need.