Safe holiday shopping: 3 ways to protect your data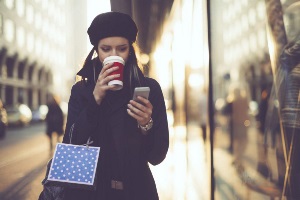 It's supposed to be the most wonderful time of the year, and yet it's when many people fall victim to hackers, thieves, and scammers. Don't let that ruin your Black Friday deal hunting, though. Here's three easy ways you can keep your money, identity, and holiday spirit safely intact:
1. Only carry the cash you need.
Yes, paying in cash can keep you from overspending but it also makes you more vulnerable. If someone steals your wallet full of cash, you've lost that money. But your debit or credit card can be frozen and replaced in the event it's lost or stolen. If you do prefer shopping with cash, be careful not to allow other people to see how much you're carrying.
2. Use a chip card.
The magnetic stripe on the back of traditional cards houses unchanging data—like your card number, expiration date, and CVV code. If someone accesses that data, they have everything they need to duplicate your card and use it.
Chip cards contain an embedded microchip that creates a unique, one-time-use transaction code every time it's used. If someone accesses information from one specific transaction, they still won't be able to duplicate the card. Because the chip creates codes that can only be used one time, attempting to reuse a transaction code would likely result in the card being denied.
3. Rely on your mobile wallet.
Mobile payment options, like Apple Pay, Android Pay, and Samsung Pay, are not only really convenient but they're also really secure. Mobile payments never share your information with merchants and use biometric data (like your Face ID or thumbprint) to authorize transactions. So even if Joe Schmo swipes your phone from your pocket, he can't go on a spending spree unless he takes your thumb or face with him.
Stay vigilant this holiday season. Check your accounts often using online or mobile banking and call your financial institution immediately if you notice unauthorized transactions.
Now that you know best practices to keep your data safe, you can make your holiday purchases with confidence.