How to protect yourself from credit card fraud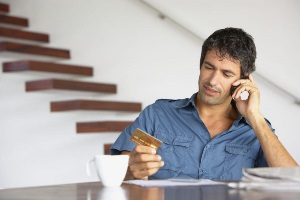 A major company carrying your sensitive information gets hacked. A scam email or phone call tricks you into giving away your account number. A thief ruffling through the trash finds a discarded billing statement.
Credit card fraud affects millions of Americans every year in a variety of ways, and unfortunately some cases can't always be prevented. Thankfully, most financial institutions offer services to protect against fraud and safeguard your identity.
While your financial institution is probably always monitoring your account for unauthorized charges, it never hurts to play it safe. Though your chances of encountering credit card fraud are actually pretty low, practicing these six tips will ensure those odds stay in your favor:
1. Monitor your online information.
Many of us do the bulk of our shopping and banking online. With all that personal information floating around it's a good idea to change your login and password information periodically–especially if you're not known to use really strong passwords. That way you only fall victim to amazing Amazon deals, not hackers.
2. Check your bank and credit card statements often.
View your statements and accounts regularly so you'll know if something looks off—like a storage fee for that private plane you never knew you owned.
3. Review your credit reports.
Fun fact: every year you're entitled to a free credit report from each of the three major credit-reporting agencies: Equifax, Transunion, and Experian. Check them for accuracy and make sure all the accounts are ones you recognize. Information can vary from report to report, so it's important to check all three agencies' reports.
4. Shred important documents.
Invest in a shredder and regularly shred any outdated bank or credit card statements, or other personal documents you have. This extra measure keeps your information from falling into the wrong hands.
5. Notify card issuers if your address changes, or if you're traveling.
Nothing appears more suspicious to a financial institution than if one of their members or customers is making purchases in another state or country. Avoid an awkward situation where your card is suddenly denied at the checkout counter or hotel desk by notifying your bank or credit union if you've moved or before you take that much-deserved vacation.
6. Be wary of unexpected emails or senders you don't know.
Luring you into sharing your information or clicking a link through an email is an excellent way for hackers to gain access to your private information. If anything about an email seems off, whether it arrives at a weird time of day, asks you to do something, or comes from a company or person you don't know, do yourself a favor and delete it.
Following these tips will go a long way toward keeping your identity and private information safe, but it's still no guarantee. Call your card company right away if you suspect your private information may be compromised. Most financial institutions have fraud-prevention policies in place and will help you through the process of preventing or clearing responsibility from fraudulent transactions.