How to protect yourself from text scams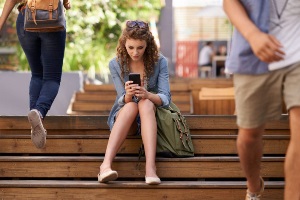 By now you probably know about a lot of scams thieves use to steal personal information from their victims. From ATM skimming devices to phishing emails and world-wide data breaches, thieves are finding new ways to get their hands on sensitive data every day.
More recently, police all over the world have seen a rise in cellphone identity theft scams—particularly those that originate through text message. It's no surprise, considering there are almost as many active cellphone accounts as there are people in the world.
It might sound scary, but like any other identity theft scam, knowledge is your best weapon. So how are hackers using text messages to steal identities and other sensitive data?
Here's what you should know:
There are a lot of variations, but ultimately you're sent an unsolicited text message prompting you to call a 1-800 number to provide personal information, like your credit/debit card number, CCV code, PIN or social security number. Hackers may pose as your financial institution saying that your account or card has been compromised, or they may claim to be the IRS seeking back taxes.
If you ever receive a bogus text like this, the best way to protect yourself is to remember these 2 things:
1. The IRS does not use unsolicited email, text messages or any social media to contact you about your personal tax issues.
If you receive a text message from someone claiming to be the IRS and demanding payment, report the incident to the Treasury Inspector General for Tax Administration (TIGTA) at 1.800.366.4484 or atwww.tigta.gov.
2. Your financial institution should never ask you to input private information (like your credit card or account numbers) via text, or call you asking for personal information.
If someone ever calls or texts you about your account and it seems suspicious, hang up and call your financial institution's published phone number. If your financial institution is truly contacting you, it's safe to assume they know your account information already; so while it's reasonable for them to ask you some questions to verify your identity, asking for your full account, card number or pin is a red flag.
If you get a text referring to accounts at an institution you're not associated with, don't assume they know something you don't. Do a quick search on the internet to find that institution's public phone number and call to verify the information. Don't call any phone numbers given in the bogus text.
Bottom line? If something seems suspicious or out of place, it probably is. Don't respond to suspicious texts, and instead call a publicly published phone number for whatever institution or company the texter claims to be associated with. When it comes to your private information, you're always better off safe than sorry.