How to create a back-to-school budget that works for you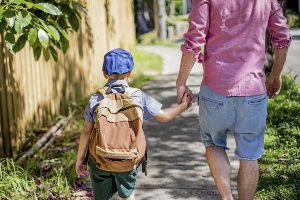 Back-to-school time is the perfect opportunity to start talking about everyone's favorite subject: budgets.
Depending on how organized your finances are, this time of year might come with a lot of unplanned expenses—and we all know how those notebooks, binders, markers and glue can add up. If you're someone who is always caught off guard by these once-a-year type expenses (see also: birthdays, baby showers, graduations etc.), you might be in need of a flexible budget overhaul.
When it comes to building a budget that can handle almost anything life throws at it, there's one formula most experts recommend: the 50/20/30 method.
Here's how it works:
50% of your budget should go towards essentials. This includes housing, groceries, utilities, insurance and so on. There aren't many gray areas in this part of the budget. If you have to ask yourself if something is essential, it probably isn't.
20% is reserved for priorities like paying down debts, college savings, retirement accounts and your emergency fund.
30% is for optional expenses like vacations, hobbies and going out to eat, as well as one-off expenses like (you guessed it!) school supplies, birthday presents etc.
So what makes this plan so flexible? If you're feeling like the budget is a little tight, you already know which portion gets cut back to pay for that "surprise" expense. Eliminate some of the optional expenses, by say eating at home a few more nights this month and skipping those morning lattes, and suddenly there's room for the kids' new gym shoes without the stress of paying the power bill late.
If moving things around in the "optional" category still has you feeling strapped, you know to plan differently for next year. Maybe set up a school supplies savings account in the priorities category, and start contributing a little bit each month.
Keep in mind that these guidelines are helpful, but they're not hard and fast rules. Make adjustments based on your family's needs. Whatever changes you make, just make sure it all adds up to 100%.
Try IHMVCU's budgeting and saving calculators to find out what would happen if you changed your money habits. IHMVCU members also get free access to FinanceWorks, a budgeting tool within Online Branch. FinanceWorks tracks your income and expenses, allows you to set realistic spending goals, and even alerts you when you meet or exceed your spending limits.
Now that you have a place to start, calculate your current spending and see how it compares to the recommended percentages. No matter what adjustments you need to make, keep in mind that every month will be different. The most important thing is to be diligent.