What to know before you buy your first home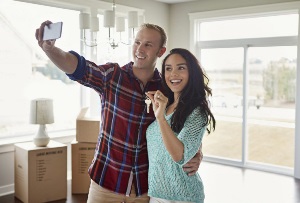 Buying a home is serious business.
If you're anything like the average first-time home buyer, you probably have ten new questions for every answer you already know. So how do you know if you're ready to be a homeowner? In addition to saving a down payment and preparing a budget, knowing the answer to a few basic questions is a decent start.
What's a mortgage?
A mortgage is a loan to finance the purchase of a home. It's probably the largest debt you'll ever take on, and is usually more than just a house payment. It's made of a couple moving parts: collateral, principal, interest, taxes and insurance.
In the case of a mortgage, the house you purchase serves as the collateral, or security for the loan. If you fail to make payments, your lender can seize the home as repayment.
You've probably heard the words principal and interest in the context of loans before. The amount you borrow up front is the principal balance of your loan. Typically you'll make a down payment of at least 20% of the purchase price and borrow the rest. Some lenders will accept a down payment as low as 3.5% of the home's value for first time buyers. Interest is what your lender charges you to use their money to make the purchase. Together, principal and interest will make up the bulk of your loan.
Like most other purchases you make, you'll have to pay taxes on your home and the amount you pay will vary depending on where you live.
Before you close on your home, you'll also have to prove to your lender that you have insurance to protect the house and your belongings in the case of a fire or natural disaster. If you live in a designated flood plain you'll have to obtain flood insurance, too.
Many borrowers elect to have taxes and insurance rolled into their mortgage payment through an escrow account. This way, they can make small payments every month instead of worrying about a large annual or semi-annual payment.
Do I really need 20% for a down payment?
Not necessarily, but it's recommended. How much you're required to put down will depend on your lender and qualifications.
The Federal Housing Administration (FHA) has programs tailored to first time buyers that offer low down payments, low closing costs and easy qualifications. Some states also offer their own assistance programs for first time home buyers.
If your down payment is less than 20%, you'll have to pay for private mortgage insurance (PMI).
What's private mortgage insurance (PMI)?
PMI protects your lender if you default on your loan, but you pay the premiums. It's a requirement for any mortgage loan with a down payment less than 20%. There's really no benefit for the borrower, so it's best to avoid it if you can.
If you opt for a lower down payment, you'll have to make PMI payments until the balance of the loan reaches 78% of the home's original value.
If you get an FHA loan, you'll have to pay PMI for the life of the loan, even if you get the balance down to 78% of the original value. The only way to remove PMI from an FHA loan is to refinance.
Should I work with a real estate agent?
Unless you have expert level knowledge about the area you hope to buy in, and know a lot about how to properly price a home and make an offer, you'll probably benefit from working with a professional.
The listing agent works for the sellers, not buyers. A buyer's agent will help you get the best price, give you independent advice and may even be able to point you towards listings you wouldn't know about otherwise.
What's the difference between preapproval and prequalification?
Prequalification is usually the first step in the mortgage process. You'll provide your lender with a basic picture of your financial situation including debt, income and assets. In most cases you can do this over the phone or even online. Your lender won't pull your credit report or take an in-depth look at your ability to finance a home, so you'll only get a ballpark number of what you might be able to afford based on surface level information. It's essentially an estimate, and just because you're prequalified for a certain amount doesn't mean you'll be approved for that amount (or even be able to afford it).
Preapproval is the next step. You'll probably fill out a mortgage application, and your lender will take a hard look at your financial situation—pull your credit, assess debt to income ratios and verify your employment. When it's all said and done, you'll be given a specific amount for which your mortgage is approved. You'll probably also get a written contingent agreement allowing you to shop for homes at or below that dollar amount.
Getting preapproved will save you a lot of time and disappointment by narrowing down your price range before you start looking at homes. You can totally avoid those homes you know you can't afford, and focus on your real options. You gain advantage when dealing with sellers, too—you'll be able to make serious offers that aren't contingent upon obtaining financing. If you're competing against other buyers for the same home, your bid may be more appealing compared to someone who hasn't arranged financing.
What are closing costs?
These are the fees associated with the close of any real estate transaction. Closing takes place when the buyer takes position of the home's title.
How much you pay depends on where you live and what home you buy, but total closing costs are usually around two to five percent of the homes total purchase price. Typically, your lender will give you a Closing Disclosure that outlines any fees a few days before closing.