Why Your Budget Isn't Working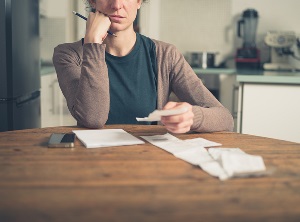 Creating a budget that works for you and your family is the first step in living a financially healthy life. We talk a lot about budgets. If you're a regular reader of our MoneySmarts blog, you know we frequently offer "budget friendly" tips and easy ways to "stick to the budget." But what does all that mean if you don't know anything about the way you or your family spends money?
Odds are you probably have at least some kind of budget for your family—whether it's just monitoring your accounts and keeping a general idea of how much money goes in and out, or a totally itemized spreadsheet. Is how much you spend each month reasonable while leaving room to save or invest? How do you find out?
While there's no perfect budget that will work for every family every month, experts agree that the best way to ensure you live within your means is to follow a percentage based plan. The most common suggestion is the 50/30/20 plan:
50% of your income should go towards required expenses. This includes housing, food, utilities, transportation (including car payments), insurance, etc. These are NEEDS.
30% of your income goes towards optional expenses like clothing, vacations and gifts–the little things that help you enjoy life. These are WANTS.
20% of your income should be allocated for paying off debts (like student loans and credit cards) and saving/investing.
These guidelines are helpful, but keep in mind that they're not the end-all-be-all of budgeting. You'll have to make adjustments based on your family's needs. A recent college grad living at home is going to have a wildly different budget than a family of five with a mortgage and a baby on the way. Where you live, how far you commute, the size of your family, etc. will all play a role in how you make the budget work for you. Whatever adjustments you make, just make sure it all adds up to 100%.
If you're not the spreadsheet type, you may benefit from online services that make keeping a budget less tedious. Try IHMVCU's budgeting and saving calculators to find out what would happen if you changed your money habits. IHMVCU members also get free access to FinanceWorks, a budgeting tool within Online Branch. FinanceWorks tracks your income and expenses, allows you to set realistic spending goals, and even alerts you when you meet or exceed your spending limits.
Now that you have a place to start, calculate your current spending and see how it compares to the recommended percentages. No matter what adjustments you need to make, keep in mind that every month will be different. The most important thing is to be diligent.