Budget Friendly Home Makeovers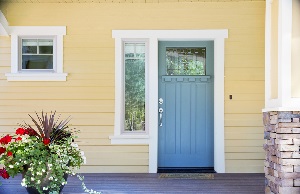 Warmer weather is here to stay, but all that extra sunshine can draw attention to subtle flaws in your home that may have been overlooked this winter. Whether you want to make big changes or just add a little more life to your home, there's plenty you can do without the help of a professional. If you home needs a pick-me-up, check out these DIY suggestions for sprucing up your home on a budget:
Paint Your Front Door
Paint damage usually shows up in the spring, especially after winters with heavy snow and rain. If painting your house's exterior is beyond your budget, you can still make a fun change and add to its curb appeal by adding a colorful coat of paint.
The key is to pick a color that compliments your exterior color without overwhelming every passerby.
Paint Your Front Door to Boost Curb Appeal
Reseed Your Lawn
Whether you have bare spots in your lawn or you just want thicker grass, reseeding is easier and less expensive than you may think. This chore can be as big or as small as you want—churn up the whole yard and lay down a seed blanket, or just sew seeds into the bare spots. Either way, improving your lawn's appearance is guaranteed to add to your home's value and curb appeal. The Family Handyman: How to Reseed Your Lawn
Clean your gutters
Gutters are your house's first defense against rain water and melted snow that might damage your foundation. Clogged or leaky gutters can cause water buildup below the roofline and could lead to a wet basement and an expensive cleanup.
Cleaning your gutters will help them last longer, saves you money, and helps your home look better from the street. At least once a year, climb a ladder and carefully remove all the leaves and debris. If this sounds like a pain, consider installing gutter guards this spring so you don't have such a big job next year.
HGTV: How to clean and Repair Gutters
Replace or Repair Window Screens
Opening your windows on warmer spring days instead of turning on the air is a great way to save some money. If your window screens are in need of repair, fixing or replacing them will keep bugs from getting in and will instantly improve how your home looks from outside. Replacing a screen entirely is inexpensive, and repairs are easy for those screens with only minimal damage.
Martha Stewart: How to Repair Window Screens
Are you ready to tackle some larger home improvement projects? Visit us at any branch or at ihmvcu.org/homeequity to learn about how a home equity loan can help you turn your house into your dream home.