IHMVCU puts the power in your pocket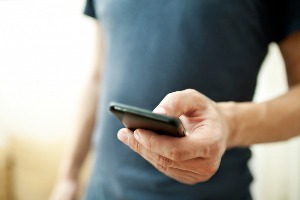 We know you have a lot of things you'd rather be doing than waiting in line.
That's why we made a mobile app that can take care of almost all your financial needs. It's like having an IH Mississippi Valley Credit Union branch in your pocket.
You can check balances and make transfers on the go, plus we've added some great new features to make your life a little easier.
Deposit Checks
You probably don't have time to run to the credit union or ATM every time someone writes you a check. Wish there was a better way to get your money without taking time out of your day?
Good news! IHMVCU's new remote deposit feature makes it easy to get those checks out of your wallet and into your account. It's as simple as logging in and taking a couple photos. You'll love how easy it is.
Bill Pay
We know you love the convenience of Bill Pay in Online Branch. That's why we added it to the mobile app. Now you can schedule payments on the go, too. You'll never worry about forgetting to schedule a payment again. It's easy. Just log in, select which bill to pay, and get back to your life. Wherever you go, our new mobile app makes managing your finances a little easier.
Purchase Rewards
You love getting a deal, but who has time to clip coupons? Our new purchase rewards program makes it easy to get cash back just by using your Visa debit card at the places you go most. Just add rewards to your card, shop at the places you love, and your reward money is deposited directly into your account. There's no catch—it really is that easy! Log in to the app today and click "Earn Cash Back" to see your reward offers.
We know you're busy, and your free time is valuable. The new mobile app is just one more way IHMVCU keeps pace with you.
Already an Online Branch user? Download our mobile app today at the App Store and Google Play.