Host a winning Super Bowl party without losing your budget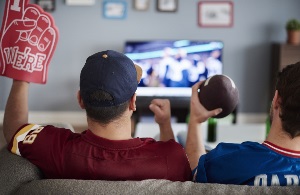 If you're anything like us, you probably aren't traveling anywhere for the big game this Sunday. Though watching the game from home is cheaper than being in the stands, hosting a party can still be pretty pricey—it's estimated that Americans spend around $11 billion dollars on Super Bowl Sunday. IHMVCU wants to help keep your party from breaking the bank. Here are some tips to throw a party that's fun for your friends and friendly for your wallet!
Food
Super Bowl parties are casual by nature, so it's okay to ask guests to contribute to the spread. If you're tired of the usual potluck, consider a baked potato bar. A big bag of potatoes costs around $4 and you can easily prepare enough for a crowd in the slow cooker. Just wrap the potatoes in foil and cook on low for 8 – 10 hours. Have guests bring their favorite potato toppings, like cheese, broccoli, and crumbled bacon. Spice it up by making a large batch of chili for around $1 per serving.
Save even more by using any leftovers in your menu for the next week. Strip the meat from chicken wings to make tacos or enchiladas. You can even crush leftover potato chips to make a crunchy coating for fried chicken. If your guests left a few unopened beers lying around, try using it to braise a roast. Craft beers especially have enough flavor to liven up even the cheapest cuts of meat.
Drinks
If you're asking your guests to bring food, you may want to provide some of the drinks. Use coupons to buy two-liter bottles of soda and mixers if your guests might need them. Instead of shelling out cash on bottled waters, make your own flavored waters. Try adding sliced cucumber, lime, and mint leaves to a large pitcher of water. It's easy and refreshing.
Alcohol is arguably the most expensive part of any party. Since people's tastes and drinking habits vary, have guests bring their own alcohol. Have some fun by asking beer drinkers to bring enough of their favorite brew to share and do a swap.
Decorations
Your guests are probably more concerned with the score than your décor, so don't go all out. Instead of decking out the living room, try decking out your friends. Ask guests wear their team's colors and make face paint with stuff from your pantry. All you need is cold cream, corn starch, and food coloring. Easy directions here.
What are some of your favorite money-saving party tips?