Host a Pinterest-Perfect Holiday Party on a Budget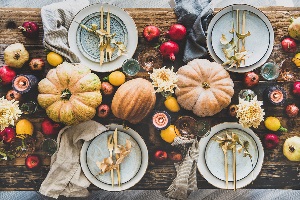 Whether you're hosting Friendsgiving or the real-deal Thanksgiving meal, hosting is a big responsibility that often comes with a hefty price tag. Don't stress! There are plenty of tricks to host a beautiful Pinterest-worthy holiday celebration that won't cause you to ask for all your holiday gifts in cash. Follow our guide to hosting a budget-friendly and Pinterest-worthy Thanksgiving.
Color palette sets the tone
The color palette is the foundation of a well-planned party. Your guests will notice your décor – or lack of it – as soon as they walk in, and it sets the mood for the rest of the night. This doesn't have to be an expensive endeavor, and you don't have to choose the traditional Thanksgiving tones, either. Choose colors that complement the décor elements you already have, such as your dishes, flatware, glasses, etc. These are usually the most expensive pieces to purchase. If your plates are pink, embrace it. If your flatware is jewel toned, all the better. Just make sure the tablecloth, napkins, centerpiece and other decorations match.
Create a signature drink
Every Pinterest-worthy party has a signature drink, and yours will be no different. For Thanksgiving, try cranberry sangria. Buy frozen fruit to save on cost (and to keep the sangria cold without ice watering it down). Add lots of cranberries to float on top (and maybe some other fruits that match your color palette) for a picture-perfect creation. Try this Delish.com cran-apple sangria recipe for a beautiful cocktail everyone will want to drink – and take pictures of.
Plan your table décor
Have you ever seen a Pinterest party without impeccable party décor? We didn't think so. It's the heart of every Type-A DIY-er's party planning checklist. The secret, though, is it doesn't have to be expensive. First, of course, think of your color palette. Let's say you have white dishes and silver flatware that you intend to use. White, green and orange go very well together (not to mention they complement a certain ruby red drink). Your first thought might be beautiful fall flowers, and you'd be right. They'd be gorgeous. But they're also be expensive. Cut down on costs with some out-of-the box ideas. Head to Target or Homegoods, and grab a table runner. Even a plain white runner will elevate your table setting, and they're usually much less expensive than a full table cloth. Then, go to your local grocery store and grab some small pumpkins to arrange in the middle of the table. For the green, grab a bunch of fresh rosemary sprigs to scatter among the pumpkins. Voila. Not only did you save money, but your table looks – and smells – incredible.
Make Place Cards
There are so many reasons to use place cards:
Chances are at least one person in your group doesn't know the rest well. This saves them from the awkward, "Is this seat taken? Oh, it is?" conversation.
As the host, you will know in advance where the vegetarian and the one who is eating gluten free (for the next five days) are sitting.
They're pretty.
Place cards save you and your guests a lot of trouble. They're also a sign of a well-planned and thought out party. And, they're cheap. Save your wine corks for the next month, shave a little off the bottom, slit the top, and now they're gorgeous place card holders. Or, just take everyday construction paper (in your color palette, of course) cut it down to size, fold into small tents and write names on them with a metallic pen. You'll be surprised how nice it looks. You can also punch a hole in the place card and tie it to some of that rosemary with a bit of yarn. Leave it flat on each plate for a really stunning look.
Garnish changes everything
A few fresh herbs left on top of the stuffing or some bright green lettuce under the turkey with some orange slices and cranberries sprinkled around takes your dish from looking yummy to looking Pinterest-worthy. Bonus points for coordinating your garnish with your color palette.