12 ways to reduce your utility bill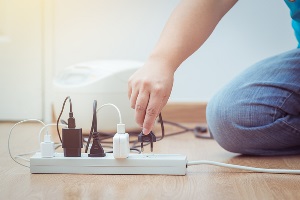 There's a lot to keep track of when you first move out on your own, and a constantly fluctuating utility bill can make sticking to a budget difficult. But, cutting back on your energy use and guaranteeing yourself a manageable monthly bill is easier than you might think. It's perfectly possible to live comfortably and conserve energy at the same time.
Utilities can cost a fortune if you're careless and don't use them efficiently. The power is in your hands to either waste or save energy and money.
These 12 tips will shrink your utility bills and have you energetic for savings!
Light dimmer switches
Not every light needs to be as bright as possible all the time. Light dimmer switches will enhance your home and romance your wallet if you use them effectively. Less light → less power → more savings! Hello, mood lighting. Plus, it's easy and quick to switch your switches. Here's a tutorial from Home Depot.


Switch to LED bulbs
The U.S. Department of Energy says LEDs use at least 75% less energy and last 25 times longer than traditional incandescent lighting – which means they can save you a pretty penny on your utility bill and replacement costs. According to Goldman Sachs Investment Research, LEDs will account for 75% of total residential lighting sales by 2019. America's making the switch to LEDs and you should too!


Install motion sensors outside
A well-lit entrance or exit is an essential safety feature – not only does it make coming and going easier, but you can also see anyone else who might be outside your door after the sun goes down. But leaving your outdoor lights on all night is unnecessary. Install a motion sensor on the light above your entrance/exit and only pay for the light when you need it.


Shower Power
To conserve water, switch your shower head for one that uses 2.5 gallons per minute (gpm) or less. You'll protect natural water habitats and save money on your water bill, a win-win! Just do your research before you spend to make sure you're not sacrificing the comfort of your shower, or you'll end up switching back in no time.
Kill power vampires
No need to grab garlic and a wooden stake. These power vampires suck electricity, not blood! According to a study by the Natural Resources Defense Council, electronics in idle-mode cost the average household $165 a year. To save money, plug your electronics into a power strip. Simply switch it to "off" to disconnect from the electrical current and prevent electronics you're not using from sucking power.

Energy star products
Out with the old, in with the new. The U.S. Green Building Council states Energy Star appliances use 10-50% less energy than standard appliances depending on model and usage. Your options might be limited if you're renting, and no one expects you to replace the dishwasher in your apartment. But even switching your grandma's hand-me-down microwave for a more efficient model can have a significant impact.


Cold wash clothes
Energy Star says 90% of a washing machine's total energy is used just heating the water for a hot wash. Buy a cold-water formula detergent and skip the hot water on normal loads. Save the hot water cycle for greasy stains and you'll see savings.


Night-time chores
Did you know electricity costs less between 10:00 PM and 8:00 AM? Most power companies offer discounted rates during non-peak hours. Save a couple bucks by running the dishwasher or washing machine after 10:00 PM. Want to find out your power company's cheaper off-hours? Here's MidAmerican Energy's rate information. See "Optional Time-Of-Use Rates" for more details.


Insulation check
According to GreenHomeGnome.com good insulation can reduce the cost of heating and cooling your home by over 40%. Seal air leaks around doors and windows with inexpensive weather insulating tape and hang a set of thermal insulated drapes for your windows to help prevent heating or cooling the whole neighborhood.
Change furnace filter
Replacing furnace filters has two money-saving benefits: your furnace will be more effective and have a longer lifespan. Change the filter at least every 3 months to allow your furnace to run efficiently and prevent dust build up.


Fans are your friend
Fans don't actually make air colder, but they're great for making a room feel cooler than it is. They circulate the air which helps your AC spread cooling power throughout your home more efficiently. Keep your ceiling fans on if you have them, or place a couple box fans strategically in the rooms you spend the most time in.


Comfortable at 78
You can save big by keeping your home at 78 degrees in the summer and 68 in the winter. It's cheaper to turn on the fan than turn up the AC, and adding a blanket in the winter doesn't cost you anything at all. If you really want to reduce your cost, you'll save 3% on your bills for every degree you go up in the summer or down in the winter.
Saving money on utilities doesn't have to be difficult. It might take a little extra green to make the initial investment for some of these methods, but the savings will be worth it in the long run.
Looking to make bigger changes that what's mentioned here? IHMVCU has you covered. Check out our Home Equity Loans.